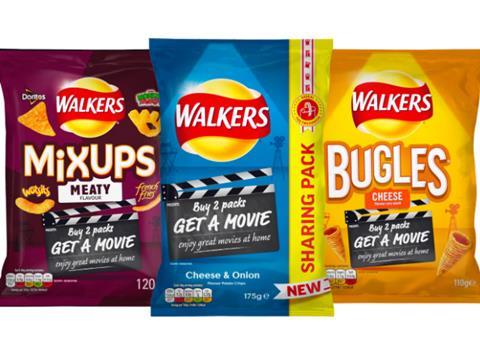 Walkers is set to kick off a promotion offering shoppers the opportunity to stream online films for free.
The Movie Nights push will run from next week for the rest of 2017 on sharing bags across the brand's core range, Bugles and Mix Ups. Each pack features a unique code, with consumers needing two codes to watch a movie via VOD service Rakuten TV.
Launched to capitalise on the growing number of family sharing occasions, the drive will be supported by TV, digital, and in-store advertising from early October.
More than 50% of crisp snacking occasions took place while watching TV at home, said Thomas Barkholt, marketing director at Walkers owner PepsiCo."As these autumnal nights draw in and the weather gets a little colder, we hope this latest campaign will appeal to those families choosing to stay in."
Sharing bags accounted for one fifth of all savoury snacking occasions in the UK, he added. "We have huge confidence this promotion will drive sales within the sharing sector."