The story of modern product placement begins with a small, scared alien.

It was the early 1980s and, having been turned down by M&M's owner Mars, a director by the name of Steven Spielberg approached Hershey's to see if they'd consider featuring their brand-new peanut butter cup sweets in a scene for his new movie: ET the Extra-Terrestrial.

The result was cult status, both for the film and for Reese's Pieces, used by the film's young star to lure ET from the woods. Sales of the sweet reportedly jumped 65% in the two weeks after the film premiered and it remains core to the brand's identity decades later. Only this year, to mark its first piece of innovation in 40 years, the brand fired an in-store display into space in an attempt to "tap into nostalgia" around the ET connection.

The success of the tie-up proved to sceptical brand owners that integrating their products into films or TV could lead to tangible results, and in the years since product placement has boomed. From Marlboro in Men in Black, to Duracell in The Matrix to James Bond sipping Smirnoff vodka martinis, the past few decades are littered with high-profile examples.
It isn't slowing down, either. The value of the US product placement market (the biggest in the world) grew 13.7% in 2017 to $8.8bn, according to PQ Media, its eighth consecutive year of double-digit growth. In the UK too - where product placement has only been permitted since 2010 - the past few years alone have seen Co-op and Costa Coffee open up branches on Coronation Street, and Unilever shampoo stocked in the Love Island villa.

At the same time, though, we're told modern audiences are far savvier and less susceptible when it comes to advertising. That they can spot all those subtle selling tactics a mile off. So how is it that in 2019 product placement still works? What does it take to enjoy the Reese's Pieces effect? And against a backdrop of ever-increasing digital channels, how is product placement evolving?
Definition
Product placement is a broad term. But loosely it covers any branded item placed in a non-advertising context, most often film or TV, but also video games, vlogs or even Instagram Stories. Its biggest virtue is that, unlike traditional, straightforward ads, it's unlikely to be skipped over, fast-forwarded or done away with altogether - as is the case with the shift to ad-free streaming services like Netflix.

Money doesn't always need to change hands, either. Set directors handed tiny budgets and asked to deck out life-size grocery stores, for example, may ask brands to send in stock for free, in exchange for exposure, a practise known as prop placement. That was in fact the deal struck between Spielberg and Hershey's (though it was later followed up with a £1m advertising deal).

More often than not though, at least in high-profile film and TV projects, brands not only pay for the exposure - they pay eye-watering sums. When in 2012's Skyfall James Bond swapped his martinis for a bottle of Heineken (much to the dismay of 007 purists), it reportedly set the brand back $45m. In Bollywood a single deal can pay for up to 15% of a film's total budget.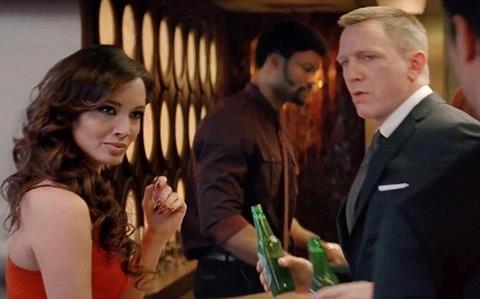 The results can make that a sound investment, though. When Bond swapped to beer so did consumers, with Heineken reporting a 3.7% like-for-like sales uplift in Western Europe after the film aired, with overall volumes up 5.3% in 2012. Macallan Scotch Whisky, featured in the same Bond movie, saw US sales leap 36% in the year following its release, according to IRI.

"Done properly, it can work both subliminally and overtly," says Andy Poole, director at Chapman Poole. "It can remind lapsed audiences, those that may have forgotten about your brand, that you're still around and with the right products in the right programmes, it can boost credibility and appeal."
Favourable inclination
Even when viewers are aware of and actively dislike the concept of product placement. According to experimental psychologist Ian Zimmerman, when we spot a brand in a film we enjoy, our implicit attitudes and emotions toward that film subconsciously transfer on to the brand. What's more, when a character we like interacts with a brand, we subconsciously identify with that product as a way to vicariously emulate that character's life. It's why brands will typically prefer to be placed with a hero rather than a villain.

"Even when we view placements sceptically, they can still give us a favourable inclination towards placed brands," says Zimmerman. "Taken together, this means that we might buy products we've seen placed in TV or films even if we view the placements as an attempt at manipulation."
"Even when we view placements sceptically, they can still give us a favourable inclination toward placed brands"
This makes it an attractive option for all sorts of brands. And the everyday nature of fmcg products means opportunities are more plentiful for them than for, say, designer watches or sports cars. "We live in an era of hyper-reality, where everything from cartoons to drama is about being as realistic as possible," says Simon Wright, MD of Greenwich Design and co-founder of The Chemistry Works. "It wouldn't feel incongruous for one character to pass a bottle of Sarson's vinegar across the table to another when they were having fish and chips. Likewise if one of the characters passed a poster of a Pepsi ad while driving around town, that would be in keeping with an environment we're familiar with."
This seamlessness is one of the key ingredients to securing the kind of impact that Reese's Pieces enjoyed, experts agree. Brands haven't always got it right, a fact that the movie Wayne's World notoriously poked fun at in 1992, with Mike Myers comically plugging Pizza Hut, Pepsi and Doritos, all in less than a minute. But recognising that product placement needs to feel natural is one of the ways the practice has evolved. In particular in the UK, where Ofcom now requires that any brand placement is 'editorially justified' to ensure cash can't overwhelm creativity.

"The days of plonking cans of Pepsi in front of X Factor judges seem almost archaic," says Callum Saunders, head of planning at Zeal Creative. "Let's not underestimate the intelligence of modern shoppers: we're a cynical bunch at best, and the overt nature of product placement can often feel contrived and inauthentic. If that's what shoppers are taking away from your costly endeavours, then surely that's a huge risk both financially and from a brand health metric."
An organic partnership
The most effective product placements look and feel organic, adds Stacy Jones, CEO of Hollywood Branded, who has worked with the likes of Ben & Jerry's, Burger King and Colgate. "You don't want to bop the viewer over the head, disrupting them while they are engaging with the content. Instead you want to work with the production team to craft an organic partnership that still includes the branding and messaging you are trying to secure."

John Kellaway, partner at UK product placement agency Brand Infusion, points to a scene in the recent BBC drama Mother Father Son where actor Richard Gere opened up his fridge to display a neat row of Fiji water bottles inside. "This was perfectly executed," says Kellaway, acting as shorthand for the affluent lifestyle Gere's character enjoyed. "This is often referred to as director's shorthand, ie branding within a scene that tells a story to the viewer… and potential consumer."

For brand marketing teams, of course, the creative world can be a complex space to navigate. Which is why most deals in this space are struck by specialist agencies that keep track of upcoming creative projects and liaise with set directors and producers to find the right fit for a brand.
"On social media, if brands are trying not to be transparent as they believe it looks more organic, then actually it can backfire"
For those keen to secure a spot on screen without paying for it (ie prop placement), there are some creative ways they can help you get noticed, adds Jones, be it supplying free products to wrap parties or complimentary snacks for the cast and crew. "We proactively approach filmmakers to educate them on the brand and ensure it's top of mind." Brands should bear in mind that freebies can backfire where you're up against companies paying for the privilege of a starring role, though. A technique known as 'greeking it', blurring out or covering up brand logos, is often used on brands that haven't paid to be placed in a show to avoid upsetting those that have.

Like any A-lister party, the most coveted on-screen roles for fmcg products might be difficult to access without knowing the right people. Thankfully opportunities to get products on-screen are growing and opening up, shifting beyond film and big-budget TV dramas, to soap operas, reality TV and even social media. All of which fmcg has taken full advantage.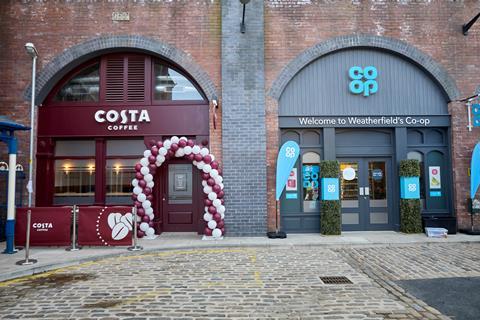 In 2018, a branch of both the Co-op and Costa Coffee opened up on Coronation Street in what ITV's sales director said was the "biggest product placement partnership ever on British TV". Though some cast members were reportedly furious, the retailer and coffee chain feature prominently on the soap's new set, with branded posters, bags and cups integrated into scenes and storylines too.
Digital opportunities
Then this summer Love Island caused a stir with its smorgasbord of opportunities for brands to end up in the infamous Spanish villa. Unilever quickly snapped one up, with its Vo5 haircare provided to islanders in an effort to drive brand awareness among its "highly engaged" young viewers, according to the company.

There are also opportunities across digital channels, such as YouTube and Instagram, populated by thousands of influencers more than happy to feature products in recipes, vlogs, beauty tutorials or simply be seen holding them as they go about their highly photogenic business.

"It's a lot more blatant," accepts Adam Williams, CEO of Instagram marketing agency Takumi. "But I think it's more powerful. For young demographics they know when they're being sold to. When they see product placement on a TV show, like a really obvious Coke logo always facing forward toward the camera, it just feels so staged and unnatural." The likes of Instagram conversely are upfront and honest, lending them greater authenticity, he believes.

Some digital channels have much the same clout as a small movie too, with millions of followers hanging on an influencer's every word. According to Takumi's own research, 68% of 16 to 24-year-olds have credited an influencer with their making a purchase in the past six months. When Holland & Barrett placed its manuka honey in the hands of 100 micro influencers last year, it saw a 90% year-on-year increase in sales, according to Williams. Costs are more flexible too, with deals setting a brand back anywhere from £10,000 to £1m.

The challenge of course is that while TV and film revolves around fictional characters with fictional tastes, placing your product in the hands of an influencer relies on them being able to convince followers that they're genuine fans. All while complying with strict regulations that require them to caveat each paid post or video with an #ad hashtag.
Contravention
Worryingly, Takumi's research found 62% of influencers have been approached by brands to contravene these guidelines, in an effort to recreate the more subtle placement they've seen in the movies. But that is failing to understand social media's very different audience, cautions Williams. "If brands are trying not to be transparent as they believe it looks more organic, then actually it can backfire." Not least as 67% of young people say they'd unfollow an influencer who failed to flag up a paid placement correctly.

Don't micromanage campaigns either, he advises. Instead let content be "created by a digital native who understands the platform completely and so can generate content for it that really, really works".

In that sense these emerging opportunities for product placement are little different to those on the silver screen. The best hope for a brand is to partner with a creative team capable of creating something we really, really want to watch, in the hope that their brand, seamlessly slotted into the storyline, can subliminally turn into something we really, really want to buy.
Can product placement blur the lines?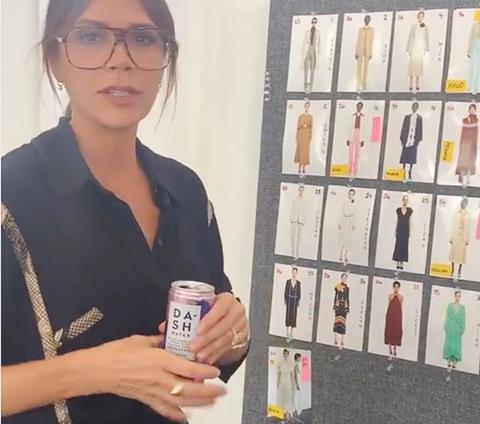 Last month, the founders of soft drink brand Dash Water had a pleasant surprise.
"Suddenly on a Sunday evening a couple of weeks back, a flurry of friends contacted us on our Dash account telling us to check out this video," says co-founder Alex Wright. That video was of none other than former Spice Girl and fashion designer Victoria Beckham chatting through her collection while holding a can of Dash Water. "It was this perfect video of her holding Dash Water in her hand while she was talking about London Fashion Week."
Even better for a small company, the brand hadn't had to part with a penny to get it there, the A-lister having simply picked up a can while it was sponsoring her show. "It wasn't that we had filmed it or explicitly paid her or asked her to create a video, it was just very organic," says Wright. "A lot of people were interacting with the video and sending us messages to say how amazing it was."
Not everyone was so sure, though, with a few commentators questioning whether the clip was yet another example of ubiquitous product placement. But for Wright - while he didn't spot the comments - believes a touch of scepticism may be the result of brands seeking to blur the lines between famous fans and famous faces paid to be fans.
As a result "consumers can be sceptical about whether any product placement is paid or not paid, as brands aren't very good at adhering to that. It's more of a problem with the system and the respect for the formal structure. With Dash Water we're always pretty transparent with what we do." And this case was nothing more than a fortuitous shot of a genuine fan.
The product placement rulebook
Unlike in the US - where product placement has been firmly established since the 1980s - the UK has only allowed deals to be struck with brands since 2010.
But in relaxing the rules, Ofcom has maintained strict boundaries on what is and isn't allowed.
For starters, any TV show that includes product placement must flash up clearly a designated logo to viewers for a minimum of three seconds during the opening and closing credits.
No product placement deals can appear on children's shows or news and current affairs programmes. And the product placement of tobacco, alcohol, baby milk or drinks high in salt, fat or sugar are all prohibited.
What's more, Ofcom insists deals "must not impair broadcasters' editorial independence and must always be editorially justified".