On a set straight out of Saturday Kitchen, M&S broadcast a social media-first, Instagram TV-led 'show' called 'What's New at M&S' this weekend to showcase its NPD. (It's on Facebook and YouTube too, but Instagram TV is only three months old.)
But it's the panel as much as the use of new media that marks a shift in marketing direction. Gone are the days of Joanna Lumley and Stephen Fry-led TV campaigns. The four (Amanda Holden, Rochelle Humes, Paddy McGuinness and Emma Willis) would serve just as well as the faces of a mid-market chain like Asda.
M&S says the panel, along with Holly Willoughby as clothing brand ambassador, were selected as they have families. So can they boost its appeal with this demographic?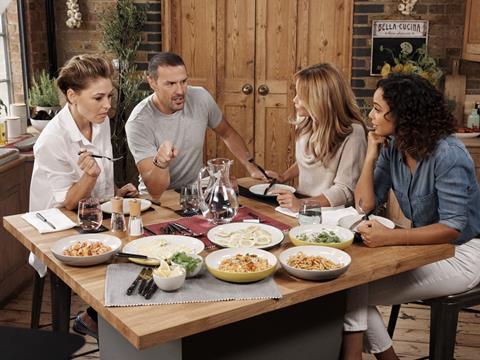 Range
The panel's brief is to taste and review new lines in a monthly 10-minute-long series of unscripted programmes. The first programme featured new Italian lines like risotto and pasta. So, popular fare. But Bryan Roberts, global insights director at TCC Global, thinks its efforts to broaden its appeal will fall at the first hurdle. "M&S is never going to be a regular grocery destination for young families. It has neither the range nor the car parks."

Retail consultant John Butler also highlights a "lack of trolleys" and car parks in some stores. There is "work to do to make sure their stores are a straightforward experience for grocery shoppers," he adds.

But Butler also thinks a smaller range needn't hold M&S back. "Limited selections worked for the discounters, so as long as popular and essential items that shoppers are after are widely available, why not?" he says.
Authenticity
The campaign will be aiming for an authentic feel, with the unscripted videos shared by celebrities on their own social media accounts, to harness the power of personal recommendations, according to M&S. But is authenticity a realistic goal?

One marketing manager has reservations. "It comes across as advertising rather than impartial opinions, which misses the point of influencer marketing."

M&S is also late to the celebrity-led campaign party, says Roberts. Given the saturation of #spon endorsements from famous faces on Instagram, he thinks "celebrity-based marketing is jaded - people want real life inspiration".

Perhaps the power of recommendation could come with the linking of the video campaign to the 'My M&S Favourite' campaign launched in May, which sees Foodhall employees wear badges showing their favourite product. Shelf-edge labels will indicate both M&S employees' and the celebrity panel's product recommendations.

Jemima Bird, former Co-op marketing director and founder and CEO of retail consultancy Hello Finch, sees this collaborative element as a strength, as it could resonate with shoppers like Tesco's Food Love Stories and Sainsbury's #fooddancing campaigns.
Brand and price
Can M&S broaden its appeal without undermining its premium image and alienating ­current shoppers?
Bird questions whether its current "middle income" customers really care what these celebrities have to say. "Such a populist choice of celebrity plays to a broader working middle class who probably aren't shopping at M&S for cost reasons," she says. "The middle is a rubbish place for retailers unless you unequivocally stand for something - M&S's food business doesn't. I'm not sure this will do much more than get online likes."
But Natalie Berg, founder of NBK Retail, believes M&S can play to its strengths and make its foodie credentials appeal en masse, particularly with the younger market. Berg calls it brave for not "shouting about" price in the current bargain-heavy climate. "M&S is a premium supermarket selling high-quality food and shouldn't pretend to be anything else."

Given the growing trend of street food and the way it can encourage consumers to dabble in new flavours and cuisines, the videos could be what encourages younger M&S regulars and potential new customers to try something new.

Stephanie Kiens, senior business development manager at Brand Me, is a believer: "If M&S can show credibility as experts in identifying and delivering exquisite recipes they will succeed."