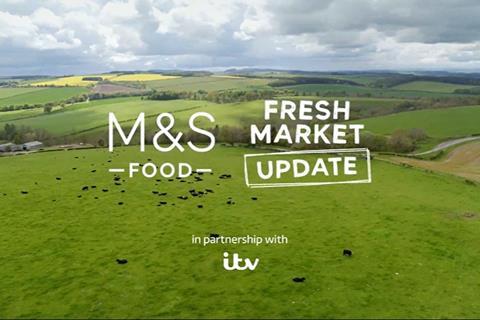 Marks & Spencer has brought back its Fresh Market Update marketing campaign offering customers a glimpse of its suppliers' work.
M&S Food's new five-month TV and multimedia campaign, which will see 62 different ads running between April and September, will focus on the work of its British Select Farmers.
The adverts will be presented by ITV's Lucy Verasamy, who will guide customers through a behind-the-scenes view of the production process of a different M&S product each week.
Fresh Market Update will run across ITV, Channel 4 and YouTube. M&S also has an online hub containing farmer stories and recipes.
Last year's Fresh Market campaign reached 35 million people across 18 weeks.
"Our Fresh Market Update campaign is a celebration of the best of British farming," said M&S Food marketing director Sharry Cramond.
"Through our longstanding supplier relationships with our Select Farmers, we're able to offer trusted value, which matters to customers more than ever."
"It is the fair price we guarantee our Select Farm partners that helps give them the confidence to invest in these standards," co-COO Stuart Machin recently said.
"It has been, and continues to be, an incredibly challenging time for British farming and whilst we lower our prices, it will not be to the detriment of the welfare of animals or our farmers."
The Fresh Market campaign is part of the retailer's larger efforts to shift its value perception amongst shoppers.
M&S has been investing heavily in making its fresh products more affordable to help shoppers face mounting living costs.
The grocer said it has invested over £100m in its value proposition over the last three years.
More recently, it slashed prices across a number of Remarksable everyday essential lines, such as bread, mince and spaghetti.
Machin said the Remarksable range "has been working" and "customer perception is stronger than ever", but that now was "the time to go further" as value is front of mind for shoppers.