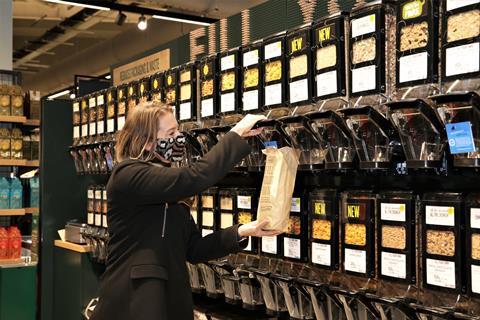 M&S has extended its packaging-free refill trial to a third store.
The retailer has rolled out the concept to its new store at Two Rivers Shopping Centre, Staines, which opened yesterday (3 December).
The aisle of refill stations features a selection of 50 own-label lines including rice, pasta, cereals, nuts and frozen fruit into reusable containers for customers to dispense.
M&S has also added corn flakes, rice pops and tri-coloured pasta to the range, alongside increased cleaning procedures and hand sanitiser.
Customers can bring their own reusable containers, purchase one for £7.50 or use the complimentary recyclable paper bags.
The Fill Your Own initiative was launched at M&S's refitted Food Hall in Hedge End, Hampshire, in December last year before being rolled out to a store in Manchester city centre in March.
M&S said customer demand for Fill Your Own had "remained strong" since it was first introduced, with more than 40% of the lines currently outselling their packaged counterparts. Its bestsellers include its four berry muesli, basmati rice, chocolate raisins and whole porridge oats.
The retailer added that the fixture had the potential to "prevent thousands of units of plastic" from being used. Fill Your Own also comes as part of its target to make 100% of its packaging recyclable by 2022. M&S has already removed over 2,000 tonnes of plastic and has stopped using black plastic since 2018.
"As we continue testing and learning from Fill Your Own, it's clear that demand for refillables remains strong," said Paul Willgoss, director of food technology for M&S Food.
"We know families particularly enjoy shopping the concept as a fun activity, so our new store in the popular Staines shopping centre is the ideal next location for Fill Your Own. But most importantly, our customers care about the issue of plastic and this initiative is just one part of our plan to help them reduce, reuse and recycle – because we know our actions today will help to protect the planet tomorrow."
M&S is one of a growing number of retailers exploring refill stations as a solution to help reduce packaging waste. Waitrose launched a similar initiative, called Unpacked, last summer and has since rolled out the concept to three more stores. Asda, meanwhile, became the first of the big four to trial a packaging-free fixture at a new sustainability trial store in Leeds in January, while Aldi plans to introduce a "reuse and refill" trial.