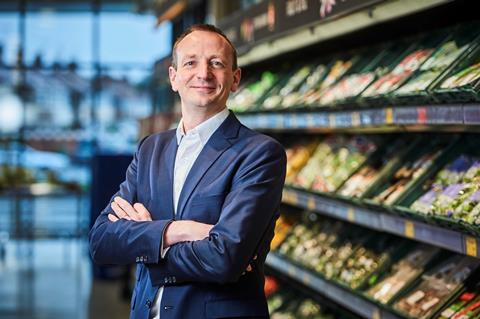 Aldi UK CEO Giles Hurley has warned suppliers they could face the axe if they don't get on board with the discounter's packaging commitments.
In a frank letter, Hurley has told suppliers that Aldi's pledge – that packaging will be 100% recyclable, reusable or compostable across own label by 2022 and across all products by 2025 – is "non-negotiable". Future buying decisions "will be based on our supply partners' ability to lead and adapt in this area".
The letter, seen by The Grocer, reveals that this year Aldi plans to join the ranks of supermarkets trialling "reuse and refill" schemes, whereby customers fill reusable containers from dispensers.
The discounter will also trial the removal of single-use bags altogether in some UK stores and roll out reusable produce bags, launched in 250 branches last year, across all 870. The price of 'flexi-loop' bags for life will be increased from 9p to 15p and the extra revenue invested in new packaging reduction initiatives.
Hurley highlighted the 2,700 tonnes of plastic and 3,700 tonnes of unrecyclable material that had already been saved since Aldi's 2018 pledge, with examples of measures taken by suppliers.
But "much more is needed" according to the letter.
"Following receipt of this letter, your Aldi buying director will contact you directly to discuss what tangible actions you will take," the letter said. "I request that you speak openly with your buying contact to actively explore all opportunities to develop more innovative packaging solutions and deliver on our packaging commitments."
The letter said steps so far, such as cardboard packaging for tuna multipacks, were a "great start" but: "We want to work with you to trial alternative materials, innovate new packaging solutions and crucially be open-minded to all options.
"I look forward to seeing the progress that we can achieve together, in this business-critical area," Hurley concludes.
Hurley is not the first UK supermarket chief to call on suppliers to work harder on packaging. In an open letter last October, Asda CEO Roger Burnley urged suppliers to "take a step into the unknown" and come forward with new ideas to help the supermarket meet its commitments. A conference was staged at its headquarters in Leeds for talks about what can be done.
Last May, Tesco warned it would ban all packaging unsuitable for recycling as from this year and in August CEO Dave Lewis said products using "excess packaging" could be delisted in category resets.
By removing single-use packaging altogether in its refill trial, Aldi will be joining Waitrose, which has four 'Unpacked' stores, M&S, which launched a refill aisle in Hedge End in December, and Asda, which plans to sell branded and own label products in banks of dispensers in Leeds from May.