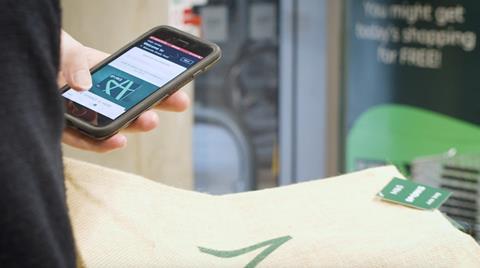 M&S's Sparks customer loyalty app has hit over one million new downloads since it relaunched in July as part of the retailer's digitally led transformation programme.
More than 240,000 shoppers installed Sparks in the first two days of its relaunch, and 2.4 million have received rewards through it over the past two months.
The total number of users now stands at eight million.
M&S has also announced a new limited 'rewards boost', in which one Sparks customer will get their basket of shopping free in every store every day until 27 September. The offer usually runs once a week in every store, and over 10,000 customers have benefited from a free basket since July.
Shoppers who sign up for the app by 27 September will also receive a free M&S tote bag.
Sparks members contributed to the retailer raising £8m for NHS Charities Together since April, with 24,000 donating directly through the app. Members of the loyalty programme can request that M&S donate to a number of charities in their name each time they shop.
The main M&S app, in which Sparks is housed, also allows contactless mobile payment in 310 food halls through its Mobile Pay Go feature, and has a newly added customer feedback section. Wi-fi has been introduced in stores and at click & collect desks.
M&S said the increasing number of users was a "further sign that more customers are choosing to shop and engage through digital channels".
"Both Sparks and the M&S app are vital parts of M&S's customer offering and an increasingly important channel of communication and engagement with its most loyal customers," an M&S spokesman said.