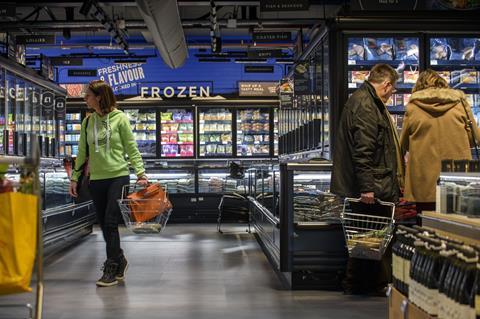 M&S's CEO has dismissed notions of so-called 'greedflation' in the food supply chain while announcing the retailer's annual results.
Stuart Machin said he had seen no sign of greedflation in the supply chain, while M&S itself was taking the biggest hit from inflation it had ever experienced.
It comes as Jeremy Hunt piles pressure on the sector to reign in food price inflation. The chancellor met food manufacturers on Tuesday and called on them to do more to ease the pressure on consumers. He also met with the Competition and Markets Authority to discuss stepping up the regulator's work on grocery prices, including any action it could take and possible new pricing rules.
Asked if he had seen any sign of greedflation in the supply chain, Machin told reporters this morning: "Not at all."
He said M&S welcomed the government asking questions and thought it "a responsible thing to do", while pointing to the retailer's shrinking margins as evidence of its efforts to shield shoppers from the full impact of inflation.
Commodity prices
"The inflation we've had, driven by commodity prices, energy prices, wage inflation – which is still really significant throughout the whole supply chain – has hit us as a retailer more than we've ever experienced, and as we know inflation is at a 45-plus year high," said Machin.
"This started a year ago and that's why our gross margin is down. Now, of course, we don't want a business where our gross margins are down."
M&S's trading update said it had avoided passing on the full force of inflation to customers, resulting in margins shrinking and operating profits for the food business slipping 10.7% to £248m.
Machin said the inflation absorbed by M&S was "quite obvious when you look at the margin investment".
He added: "We had to obviously focus on selling more volume and we had to focus on really reducing our costs and trying to restructure our business and offset all the other inflationary headwinds. Because we have the same headwinds as our suppliers: mainly energy and wages.
"The team have worked incredibly hard to balance this. I've never known such a job for the buying team, the trading team. Working with the supply chain through to delivering product to our stores, it's been an incredibly challenging time. Everyone has worked incredibly hard trying to get the balance right."
Latest Kantar data yesterday put like-for-like grocery price inflation at 17.2% for the four weeks to 14 May 2023, down 0.1 percentage points in a month.
Machin said he cautiously hoped the pressure would ease by autumn, but added: "There are still some significant issues. Wages is one and our supply base still has some significant headwinds, like we do, on wage costs.
"We've already passed through some lower prices on items like milk and bread, to where it was a few months ago. The minute a commodity and the cost of goods lower, we pass that immediately on to customers.
Inflation
"But some items – it might be eggs, for example – are still far higher than they were just 12 months ago. Therefore, whether it's the cost of sugar or cocoa, whether it's wages and energy, these things are still impacting inflation and that gets passed to us immediately."
M&S's underlying profits in the year to 1 April came in at £482m, compared with £522.6m in the previous year, when the numbers included a £60m boost from business rates relief.
Meanwhile M&S's partnership with Ocado resulted in a £29.5m loss, compared with a profit of £13.9m the previous year, as shopping frequency reduced post-pandemic and costs associated with "under-utilised capacity" increased.
The trading update said an "Ocado Retail Reset" was underway, which would include "improving customer experience".
Commenting on the reset, Machin told The Grocer: "We have to improve availability. I had a customer email yesterday talking about availability, quality and life of each product.
"We need to do a better job. That's not just on M&S, it's the Ocado range itself. And in fact at the last Ocado board we spent some time analysing freshness, quality and life of products."