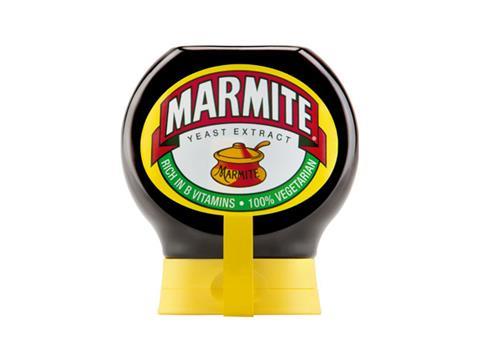 Marmite has been usurped as Britain's bestselling spread by Rowse Honey.
Our love-hate relationship with Marmite took a turn for the worse this year as value sales fell 5.1% on volumes down 1.2%, while the honey brand surged 17.6% in value and 21% in volume.
Marmite is one of eight brands to have been knocked from the top spot of their respective sectors in The Grocer's 2013 Top Products Survey, produced in partnership with Nielsen.
Read the full Top Products Survey.
Hardys has become the country's bestselling wine after sales surged by £29.2m (11.7%) on volumes up 8% - ousting former number one Blossom Hill, down 4.1% in value on volumes down 8.3%.
Müller Corner has overtaken Activia as the top yoghurt brand thanks to 5.9% value growth and Mayfair has deposed Lambert & Butler as Britain's bestselling cigarette. Indeed, Lambert & Butler suffered the greatest value decline of any brand, losing £104.2m as smokers traded down to value brands and rolling tobacco.
Read this: Top Products Survey 2013: Executive Summary report
"An increase in value-seeking behaviour has led to a slight dip in sales of brands such as Lambert & Butler," said Imperial Tobacco communications manager Gayatri Barua-Howe.
Rowse attributed its gain at Marmite's expense to other factors. "Marmite suffers from a lack of versatility as it tends to just be put on toast," said Rowse marketing controller Kirstie Jamieson. "We've been communicating that honey can be used for cooking, baking and as a natural cold remedy."
Other household names have also been battered. Heinz Beanz has fallen 6.9% on volumes down 11%, dragging overall canned bean category volumes down 8.3%, or 24.1 million kg.
Tea has also continued to go cold, with the market's volume decline accelerating from 3.3% a year ago to 6.1% in 2013.
Tetley has been the biggest casualty in tea with its core Rounds suffering a 15.8% decline on volumes down 22%. A cut in deals, contributing to an 8.1% hike in Tetley's average price, took its toll.
"People used to be loyal but now they shop around for the best deal," said Tetley marketing director Andrew Pearl.
This year hasn't all been about dwindling sales, however. Britons quaffed 4.3 million litres more (7.3%) sparkling wine and Champagne than last year and value climbed 6.7%.
"Sparkling wine is currently outperforming the other wine categories," said Chris Ellis, commercial director for wine at Pernod Ricard. "We see this trend continuing as consumers make purchases to impress family and friends at special occasions."
Read the full Top Products Survey.
New Christmas number ones
Frozen desserts: Aunt Bessie's frozen puddings range topples Viennetta with 22% growth
Allergy remedies: Piriteze One-A-Day tablets grow 21.1% to depose Piriton
Spreads: Rowse ousts Marmite with growth of 17.6%
Cereal bars: Nature Valley overtakes Rice Krispies with 12.2% growth
Yoghurts: Müller Corner grows 5.9% to overtake Activia
Canned fish: Princes jumps 1.8% as John West sinks
Cigarettes: Tax and downtrading pushes Mayfair's sales up 0.2% to overtake Lambert & Butler
Wine: Hardys sales surge 11.7% to knock Blossom Hill from the top spot