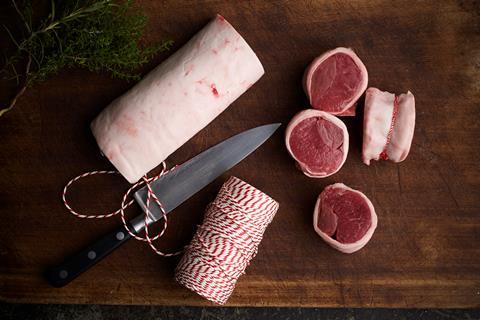 London-based premium meat supplier The Ethical Butcher has launched its first DTC website, offering a premium butchery service for meat sourced from farms aspiring to become "carbon negative".
Owned by former Smithfield trader and West London-based meat wholesaler Farshad Kazemian, the new venture has set out to challenge a shift towards what Kazemian labelled the "environmental vegan narrative" with what are promised to be "regenerative" methods of production.
On the new website consumers will be able to buy a variety of meat products, from lamb shoulder joints to whole chickens, and will also be able to find out information about the suppliers' operations through dedicated webpages and filmed interviews with them.
All have to adhere to "a strict standard of ethics" drafted by The Ethical Butcher "due to a general lack of existing reliable quality assurance in the meat industry".
"Our goal is to find a new way of producing food that goes beyond simply being sustainable and is actually regenerative – farming with nature, rebuilding ecosystems and locking carbon back into the earth," said Kazemian.
"Some of the producers are actually running carbon-negative farms – that means they are locking away more CO2 and methane than is emitted which is a real game-changer."
Whilst the firm – which works with 15 suppliers – was unable to outline its current environmental impact, it said it has partnered with the Savory Institute to help fund the measurement of its footprint.
It added that many of the farms did not use fossil fuels and had seen "a huge increase in biodiversity and improvement in soil health" since turning to regenerative systems. Kazemian said all packaging materials used to transport the meat will be recyclable.
The launch follows a crowdfunding drive on Crowdcube, which saw The Ethical Butcher raise more than £330k from 228 investors.