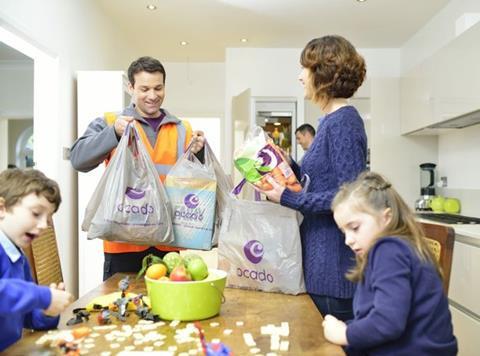 Top story
Ocado (OCDO) and Marks & Spencer (MKS) have agreed to create a 50/50 joint venture that will "transform online grocery shopping in the UK".
The joint venture will absorb Ocado's UK grocery retail business and source M&S's product range, replacing Ocado's existing supply partnership with Waitrose.
M&S has agreed to pay Ocado £750m for its 50% share of the new JV with Ocado retaining 50% ownership.
The JV will continue trading as Ocado.com and will combine M&S's branded food and beverage range with Ocado's existing range of to offer over 50,000 SKUs to consumers.
M&S product will be available on the platform by September 2020, replacing Ocado's current sourcing agreement with Waitrose.
The deal is supported by a new solutions contract, which will result in the JV becoming one of Ocado Solutions' largest partners and will provide the JV with full access to Ocado's warehousing technology.
The £750m M&S will pay comprises of £562.5m in upfront cash and a deferred cash payment of £187.5m, plus interest, payable five years after completion depending on certain financial and operational conditions.
The new JV will continue to be consolidated into Ocado's accounts.
For the 52 weeks ended 2 December 2018, the newly created JV would have generated revenue of £1,468m and EBITDA of £34.2m, taking into account the newly created OSP contract and other fees and services.
Additionally, under the new sourcing arrangement the JV will no longer incur sourcing fees payable to Waitrose, which were over £15m in 2018.
Ocado said the proceeds will enable it to fund fully the development of all Customer Fulfilment Centres currently committed with Ocado Solutions' various partners across the globe.
CEO Tim Steiner said: "We are delighted that our UK retail business will become a joint venture with M&S. This is a transformative moment in the UK retail sector with the combination of two iconic and much-loved retail brands set to provide an unrivalled online grocery offer.
"We believe that this is the best outcome for customers, offering even greater range, service, quality and value; the best outcome for our Ocado Solutions partners, creating a stronger platform from which to innovate and develop our unique and proprietary technology; the best outcome for Ocado Solutions with a further endorsement from another leading global retailer; and the best outcome for our financial stakeholders, unlocking the significant value embedded in Ocado Retail."
"The combination of the qualities of Ocado and M&S will allow us to grow faster, add more jobs, and create more value, as we lead the channel shift to ecommerce in the UK. We are very excited by the many opportunities ahead."
M&S CEO Steve Rowe added: ""I have always believed that M&S Food could and should be online. Combining the strength of our food offer with leading online and delivery capability is a compelling proposition to drive long-term growth.
"Our investment in a fully aligned joint-venture with Ocado accelerates our Food strategy as it enables us to take our food online in an immediately profitable, scalable and sustainable way.
"Combining the magic of M&S Food with Ocado's leadership in online technology allows us to transform UK online grocery shopping offering customers the broadest, most innovative and relevant range in UK food retail with award-winning service. Our partnership with Ocado will create shared value for our customers, colleagues, supplier partners and shareholders, operating with a common sense of purpose and values.
"This is a transformational step forward in shaping the future of M&S and in becoming a truly digital first retailer with at least a third of the business online."
The deal will providing M&S's existing 12.3m food customers the opportunity to buy M&S product online for the first time and will cover geographies comprising 74% of UK households with the opportunity for growth.
M&S will conduct a Rights Issue to raise up to £600m to fund the transaction, which is fully underwritten by investment bank Morgan Stanley.
Meanwhile, the M&S dividend per share is being reset by 40% to a "sustainable" level from which to "grow in line with earnings over time".
Ocado shares are up another 3.2% this morning to 1,022p, while M&S hasslumped 9.4% to 274.8p on the news.
Morning update
Drinks group Nichols (NICL) has shrugged of the UK sugar levy and CO2 shortages to posts a rise in annual sales and profits, driven by stellar growth of its flagship Vimto brand.
Overall sales were up 7% in the year to 31 December 2018 to reach £142m, underpinned by UK sales growth of 12.7% to £114.6m.
The Vimto brand grew by 12.9%, gaining market share and significantly outperforming the UK soft drinks category which grew at 7.8%.
Sales of Carbonate products grew by 12.7%, while the still portfolio increased by a more modest 0.8% as growth was hampered by weaker trading in the Middle East.
Overall international sales declined in the year to £27.4m from £31m as Middle East sales slumped to £9.6m from £13m as a result of the ongoing conflict in Yemen and the timing of shipments to Saudi Arabia.
Despite experiencing a decline within the Middle East, the Group maintained its strong gross margin of 45.7% and the growth in gross profit to £64.9m was consistent with our revenue growth at 7%, as a result of its "value over volume" strategy.
Pre-tax profits were up 4% to £31.8m.
Nichols also announced it will raise its final dividend by 14.5% to 26.8p per share.
In advance of the introduction of the April 2018 UK sugar levy Nichols had been working on its sugar reduction programme to ensure its total UK product portfolio was sugar levy exempt from the tax.
Nichols said in 2019, its expects its UK business to maintain its positive performance driven by the strength of the Vimto brand and the increasing opportunities in the out of home sector.
It remains confident are confident that the long term prospects in the Middle East and Africa remain strong, although it conceded the political situation in Yemen will create more uncertainty in 2019.
Chairman John Nichols said: "Nichols delivered a strong performance in 2018, achieving growth in revenue, profit and earnings per share, resulting in a 14.5% increase in the final dividend.
"The UK sales performance was driven by the strength of the Vimto brand, now in its 110th year and continuing to outperform the wider soft drinks market, in addition to the increasing growth opportunities in the Out of Home sector following successful investment in this area.
"As a result of the group's diversified business model, strong portfolio of brands and successful track record, the board remains confident of delivering continued profitable growth."
Nichols shares are up 2% to 1,566p on the results.
The FTSE 100 is down another 0.7% to 7,100.9pts so far this morning.
The few early risers, Ocado and Nichols aside, include Greggs (GRG), up 1.4% to 1,805p and Bakkavor (BAKK), up 0.5% to 167.8p.
Fallers, led by M&S, include PureCircle (PURE), down 3.1% to 252p, Premier Foods (PFD), down 2.7% to 26.2p, Unilever (ULVR), down 2.6% to 4,011p, C&C Group (CCR), down 2.1% to €3.05 and Associated British Foods (ABF), down 2% to 2,272.9p.
Yesterday in the City
The FTSE 100 fell back 0.5% yesterday to 7,151.1pts as the pound rose back to a 21 month high against the euro of €1.164 as PM Theresa May seemed to reduce the likelihood of a no deal Brexit.
Ocado and Marks & Spencer were both on the up as rumours of a tie-up solidified yesterday, with Ocado back up 11.7% to 990p and M&S rising 3,2% to 303.2p.
Hotel Chocolat (HOTC), rose 2.9% to 315p after strong Christmas sales drove a surge in revenues at during the second half of 2018.
Other risers yesterday included B&M European Value Retail (BME), up 2.3% to 351.4p, Tesco (TSCO), up 2.2% to 228.4p, Associated British Foods (ABF), up 2% to 2,319p and WH Smith (SMWH), up 1.7% to 2,110p.
Also on the up were McBride (MCB), up 5.1% to 98.8p, Majestic Wine (WINE), up 3% to 288p and Just Eat (JE), up 2.8% to 740p.
Fallers included companies with large international revenues given the stronger pound, with Tate & Lyle (TATE), down 2.1% to 703.2p, British American Tobacco (BATS), down 2% to 2,834.5p, Imperial Brands (IMB), down 1.6% to 2,558p, Compass Group (CPG), down 1.1% to 1,694.5p and Unilever (ULVR), down 1% to 4,117p.
Dairy Crest (DCG) eased back 1.2% to 629.5p after its recent share price jump driven by its acceptance of a near £1bn takeover bid.