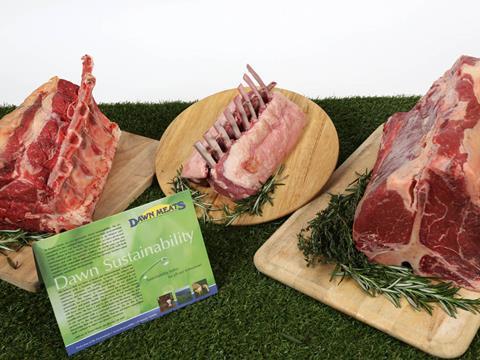 Dawn Meats' agreement to form a majority-owned joint venture with Dunbia has given the Irish processor a strategic Brexit hedge, securing supply across a potentially hard UK border.

Dunbia CEO Jim Dobson will run the jv, with Dawn Meats CEO Niall Browne acting as executive chairman. The firms will have combined revenues of about £1.8bn, with the jv trading as Dunbia and run from the Northern Irish group's Dungannon HQ.

Browne said: "Given the uncertainty posed by Brexit, this partnership should further underpin the competitiveness of both operations to the benefit of all stakeholders in the UK, Ireland and across Europe."

Ireland is a major supplier of beef to the UK, accounting for almost 70% of all beef imports to the country. Beef sales to Great Britain were worth €1.1bn in 2016, according to Bord Bia.

Meat industry sources have suggested uncertainty over changes to the border between the Republic of Ireland and the UK, and whether tariffs would be applied to red meat at the end of Brexit negotiations in 2019, was a major driver behind the deal.

A hard Brexit could mean, in a worst-case scenario, WTO tariffs of 50% to 65%, sources added.

"It is a great deal for Dawn as it gives a natural Brexit hedge," one source said. "About 60% of its volume is to Britain, and it is more than likely there will be a major hard border to progress over in two years' time. This deal gives Dawn a strong foot over the other side of that border. Come March 2019 this will make a huge difference and it now has two years to establish trading and a good balance on both sides of border"

Another source added the agreement would also give Dawn's UK supermarket customers confidence of continued supply of Irish beef in case of a hard Brexit.

Dunbia has been on the market since late 2015, with a potential joint venture spin-off of the red meat business with 2 Sisters failing to complete in 2016. It also shed its Ballymena pork division in a sale to Cranswick in November last year.

Across Dawn Meats and Dunbia, the businesses process approximately 900,000 cattle and 2.6 million sheep annually from 15 facilities across Scotland, England, Wales and Northern Ireland

Dawn will separately acquire Dunbia's operations in the Republic of Ireland, giving it a total of nine facilities, including five abattoirs, following the addition of two Dunbia sites - one abattoir in Slane and one boning hall in Kilbeggan.

The deal is subject to approval by regulators.

Dawn, which has revenues of €1.2bn (£1bn), supplies Irish and British red meat to a range of supermarkets, foodservice businesses and restaurants in Ireland and the UK, as well as exporting to 48 countries around the world. It is also a 49% shareholder in Elivia, the number two beef processor in France, which processes approximately 500,000 cattle annually.

Dunbia has nine sites located across the UK and Ireland, employing around 4,000 staff. The company is one of Northern Ireland's largest privately owned companies and currently exports to 36 countries worldwide.