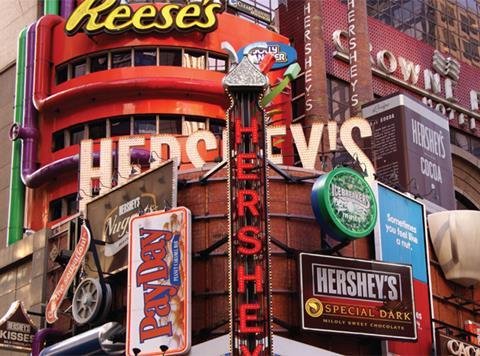 US chocolate giant Hershey has agreed to acquire snacking group Amplify Snack Brands, which owns Tyrrells, for $1.6bn (£1.2bn).
The deal values Amplify at $12 a share, a 71% premium to the price when markets closed on Friday.
Hershey, one of the biggest chocolate manufacturers in the world, has been expanding beyond its heritage in recent years to become a wider snacking company.
"The acquisition of Amplify and its product portfolio is an important step in our journey to becoming an innovative snacking powerhouse as together it will enable us to bring scale and category management capabilities to a key sub-segment of the warehouse snack aisle," said Hershey CEO Michele Buck.
"Hershey's snack mix and meat snacks products, combined with Amplify's Skinny Pop, Tyrrells, Oatmega, Paqui and other international brands, will allow us to capture more consumer snacking occasions by creating a broader portfolio of brands."
Buck joined the Reese's brand owner this year just months after Hershey was rebuffed in a takeover attempt of Cadbury owner Mondelez International.
The group added that the acquisition of Amplify would lead to annual synergies of about $20m (£14.9m) a year over the next two years from cost savings and portfolio optimization.
Amplify, which floated in New York in 2015, paid £300m to buy UK snack brand Tyrrells last year. But the US group has struggled in the face of increased competition in its domestic market and abroad, with its stock price collapsing from about $14 at the start of 2016 to just $5 in November this year.
"Since Amplify's inception in 2014, our company's goal has been to bring transparency to our products, and clean ingredients and great tasting snacks to consumers," said CEO Tom Ennis.
"This transaction is a continuation of our mission as Hershey also believes in bringing to consumers great-tasting snacks made with the best ingredients possible. Hershey is a great cultural partner for Amplify and I'm excited for our team who will have access to Hershey's marketing and go-to-market resources to take our brands to the next level."
The takeover by Hershey values Amplify at $1.6bn, including net debt and a make-whole payment of $76m million related to a tax agreement.
The deal has been approved by the boards of directors of both companies and is now subject to a greenlight by Amplify's stockholders and regulatory approvals. It is expected to close in the first quarter of 2018.