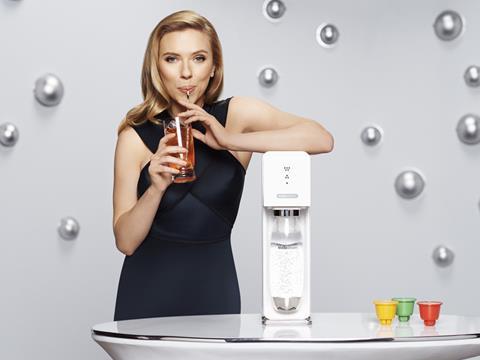 The big year for fizzy drinks just got bigger. If the sugar tax and CO2 crisis weren't enough for the category, this week gave us the sale of SodaStream to PepsiCo.

The $3.2bn (£2.5bn) deal between the Israeli and US suppliers was "an inspired match" said outgoing PepsiCo chairman and CEO Indra Nooyi. She praised SodaStream for sharing her company's "philosophy of making more nutritious products while limiting our environmental footprint".

This is likely to be Nooyi's final newsworthy decision at PepsiCo. She will vacate the CEO position in October after 12 years. Her first big move in 2006 was to launch Performance with Purpose, an initiative to make sustainability and health a core part of PepsiCo's day-to-day operations.
As part of this, the company has increasingly pushed into water - most notably with LIFEWTR in 2016 and Bubly earlier this year. So it's apt Nooyi should end her tenure with another move into water by taking control of SodaStream.
'Smart move'
It looks to be a well-timed decision. After years of being seen as somewhat outdated and kitsch, the brand's home carbonation machines have recently benefited from a repositioning as an eco-friendly and healthier alternative to single-use cans and bottles of sugary pop.
SodaStream has emphasised its reusable bottles and swapped its 'Get Busy with the Fizzy' strapline for 'Water Made Exciting'. In the quarter to 30 July 2018, sales in western Europe, the company's biggest market, were up 32.8% year on year to $108.4m (£84.2m).
PepsiCo's decision to buy SodaStream is a "logical extension for a very, very big company whose products are at the unhealthy end of the spectrum" says Shaun Browne, an MD at Houlihan Lokey. Not only is soft drinks "an area Pepsi knows a lot about", the size of the deal "moves the dial" in a way previous acquisitions of small concerns such as V Water and PJ's Smoothies didn't, he adds.

Melanie Felgate, senior consumer insights analyst at GlobalData, agrees. "As the carbonates industry faces ongoing challenges both in terms of health and the environment, the decision by PepsiCo to purchase SodaStream is a bold and potentially smart move," she says.
"Although long established, SodaStream has remained a relatively niche brand, but with the backing of a global soft drinks giant there is an opportunity to propel the concept mainstream."
Scepticism
Not everyone is convinced. Some commentators have expressed scepticism, citing issues from SodaStream's relatively low sales in the Americas ($38.4m in the most recent quarter) to the perceived inconvenience to consumers of having to maintain the brand's machines.
Then there is the uncertainty about whether PepsiCo will integrate, giving shoppers Pepsi machines and syrups.
Not doing so would be a missed opportunity, says Brand Relations MD Richard Horwell. "SodaStream always had poor syrups on offer, so the opportunity to have the full Pepsi range is a fantastic idea."

Karen Green, director of Food Mentor, believes "the beauty of SodaStream is that it gives Pepsi the opportunity to develop healthy drinks that can be consumed in the home and become another essential machine for the kitchen".
The 'make it yourself with minimal effort' philosophy that has given rise to meal kits, coffee pod machines and home-baking mixes certainly has potential for soft drinks - at least in PepsiCo's view, it seems.
The SodaStream deal, expected to close by January, follows the US company's introduction of Drinkfinity, its range of pods that can be used to create flavoured 'superfood' drinks without the need for single-use plastic bottles. Plus, personalisation is a "huge" and "fundamental" trend for UK food and drink, says Browne.

And there is little chance of PepsiCo-branded machines sharing the fate of Keurig Kold from the US. Launched in 2016 following a £1bn investment by Coca-Cola, the soda-making device was axed after nine months. Sales were slow because of its $369 (£287) price. SodaStream's devices retail in the UK for as little as £70.

"SodaStream was always affordable," says Richard Horwell. The machines could soon get even cheaper, he predicts, as Pepsi and its new partner seek nothing short of market domination.