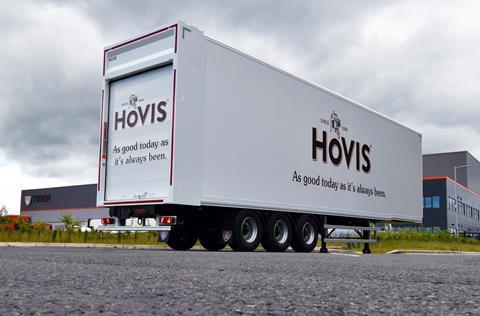 Listed Italian food group Newlat Food has confirmed to the stock market it has made an offer to buy UK bakery brand Hovis.
The group, which makes dairy and wheat products – and Buitoni pasta products under license from Nestlé – confirmed a Sky News report it had entered the £100m race to buy the bread maker.
Hovis' majority owners Gores Group tasked investment bank RW Baird with handling a sale earlier this year, having led a turnaround after buying a majority share from Premier Foods in 2014.
Newlat said it had bid in the context of a "non-exclusive competitive auction".
Other suitors reportedly involved in the auction include private equity players Endless, Epiris and Aurelius Equity Opportunities and approximately six provisional bids have been received.
Newlat said the potential acquisition of Hovis would help it achieve two key strategic goals it laid out to investors during its IPO process a year ago.
Firstly, the deal would enable it to achieve consolidated revenues of around €1bn and secondly, "become one of the most important food operators in Europe" by growing its footprint from substantial market shares in Italy and Germany to the UK.
"The production and distribution structure of Hovis would also offer the possibility to benefit from numerous synergies and to implement cross-selling activity," it stated.
Newlat said it was still awaiting feedback from Hovis shareholders on the offer.
The Italian food group raised €70m through a share sale on the Milan stock exchange in October last year, having grown its business rapidly through acquisitions over the past 15 years.
The news comes as Hovis' annual accounts were published in UK Companies House, showing a small dip in sales, but a rise in profits last year.
For the year to 31 December Hovis posted a 0.7% drop in annual sales to £333.8m in the midst of a wider decline in the overall bread market.
The company has gained share through investment in NPD, including Hovis Glorious Grains (bread that contains immune-system boosting micronutrients) and Hovis Fabulous Fibre, and launching premium range products including muffins and branded in-store bakery loaves.
Of its total sales, just £11.1m were derived from outside the UK.
Hovis said margins in the bakery segment remain "under pressure" due to its competitive nature and the "continuing broader changes in the dynamics of the supermarket grocery sector".
Nevertheless, it posted a jump in operating profits from £2.4m to £5.7m while EBITDA rose to £23.1m from £14.6m as the company has developed "a leaner, more efficient operating model".
Headline pre-tax profits rose from £6.3m to £11.9m as a £22.8m hit to its profits, related to the writedown of its investment in Rank Hovis Milling, was mitigated by a £20m gain from the sale and leaseback of two properties.
Additionally, the accounts state 2020 has seen "increased demand" for products, albeit mitigated by additional unforeseen costs.
Its category value share has grown from 20% to 22% in the past 12 months and is "well placed to capture further market share in the UK's £4bn bakery category".
In a statement to The Grocer, Hovis stated: "Despite the considerable uncertainty created by the Covid-19 pandemic and the disruption to retail businesses and supply chains, Hovis has seen an increase in demand for its products and through the ongoing dedication and support of its staff, and by working closely with retailers and suppliers, the company has been able to cover absence costs and increase production as part of the national effort to feed the nation."
Gores Group bought 51% of Hovis for £30m from Premier Foods in 2014, with the UK-listed food group continuing to hold 49% of the bread maker.
Tough trading conditions for Hovis led Premier Foods to write down its investment in the bakery business from £8m to zero in March 2016.