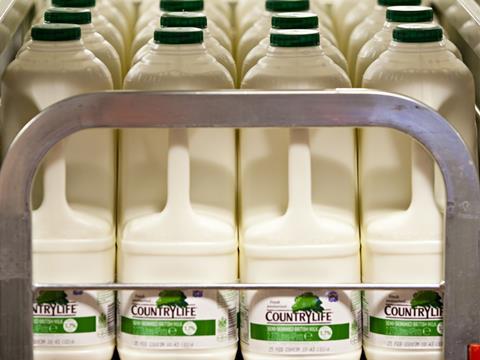 Dairy Crest's £80m sale of its loss-making liquid milk division to Müller has been approved by the Competition and Markets Authority.
The watchdog said today (19 October), that undertakings offered by Müller UK & Ireland to resolve concerns over competition post-deal, had been accepted. The acquisition is due to be completed on 26 December, and means a costly and time consuming phase two investigation by the CMA has been avoided.
Under the terms of the revised deal, Müller will supply and process up to 100m litres of fresh milk a year to rival Medina Dairy at the Dairy Crest Severnside facility in Gloucestershire, for supply to supermarkets in the Midlands, South West and South Wales regions. The toll-processing arrangement is for a period of between five and eight years.
Müller has also withdrawn its right not to complete the purchase should there be a deterioration of more than £20m from the agreed level of profitability of the Dairy Crest business, while Dairy Crest has also agreed to make a one-off payment of £15m to Müller on completion, to help meet the additional cost of the modified undertakings.
"The dairy processing industry has faced a number of significant challenges in recent years and we believe that this outcome is good for the dairy industry and the retailers," said CMA senior director of mergers Sheldon Mills.
"The remedy addresses in a clear-cut manner the competition concerns we had with the merger in especially the South West and Wales regions, and results in the accelerated entry of a competitor, Medina Dairy, which has the necessary financial backing, commitment and capability to succeed in serving large national retailers."
Mills added that the CMA had "consulted extensively and found widespread backing in the industry for this solution", while a resolution to the merger investigation brought "real benefits to the dairy industry, including farmers, as it provides certainty and allows the businesses involved and their customers to focus on bringing British dairy products to consumers at a competitive price".
Transformational moment
Dairy Crest will now finalise its consultation with employees. CEO Mark Allen said he was "delighted that the sale is now confirmed and will complete this year".
He added that the sale was a "transformational moment for Dairy Crest and the wider dairy industry", and would help to create a more sustainable UK dairy sector, with economies of scale and cost efficiencies "that will underpin investment in the sector and help the UK to compete more successfully in global markets".
The company will now focus on growing its cheese and spreads operations, as well as seeking new revenue streams from manufacturing products for the global infant formula market, Allen said.
Müller Group CEO Ronald Kers also welcomed the green light for the acquistion.
"As a family owned company, we aim to invest in businesses where we can add value through our knowledge, scale and entrepreneurial way of operating," he said.
"This acquisition is very much in line with this mission and we are delighted that we can now press on, drive towards completion of this transaction and begin work with our new colleagues to bring these businesses together."
As part of the deal, Müller will take over Dairy Crest's dairy facilities at Severnside, Chadwell Heath, Foston and Hanworth together with around 70 depots.