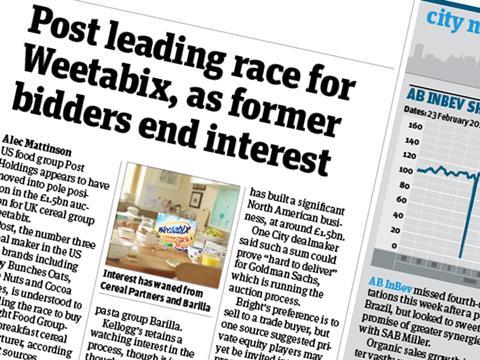 US cereal group Post Holdings has announced it has secured a £1.4bn buyout of Weetabix from its former Chinese owners.
As revealed by The Grocer in the first week of March, Post Holdings emerged as the only viable bidder left in the race for the UK cereal group after other suitors dropped out of the auction.
The US-listed group announced today it has tied up the deal to acquire the entirety of Weetabix from Shanghai-based Bright Food Group and Baring Private Equity Asia.
"We have long admired Weetabix as a leader in cereal and believe it will be a fantastic strategic fit within Post," said Rob Vitale, Post's President and CEO.
"Combining together two category leaders continues our strategy of strengthening our portfolio in stable categories and diversifying into new markets, bringing much-loved brands to significantly more customers globally. We are excited about the growth opportunities that this acquisition brings."
Post said the deal establishes a UK platform for the group with an "iconic brand". Weetabix also operates a sizable cereal and snacking business in North America across both branded and private label, led by the Barbara's brand and the Puffins sub-brand.
Meanwhile, Post has agreed in principle to establish a joint venture with Bright Food Group and Baring Private Equity Asia to manage the Weetabix China operations.
Sally Abbott, Weetabix's current director of marketing, will become MD of Weetabix UK and Ireland, while Giles Turrell, Weetabix's current CEO, will assume the newly created role of chairman of Weetabix with responsibility for overseeing the integration of Weetabix into the Post portfolio.
Post expects the deal to be immediately accretive to its EBITDA margins and free cash flow, excluding one-time transaction expenses.
Post forecasts Weetabix to contribute approximately £120m of adjusted EBITDA on an annual basis before cost synergies, which Post management expects to be approximately £20m annually by the third year of ownership.
The £1.4bn is on a cash free, debt free basis, subject to certain adjustments. Post expects to fund the acquisition with a combination of cash on hand and through borrowings under its existing facilities and new secured borrowing.
The transaction is expected to be completed in the third calendar quarter, subject to regulatory clearance.
The Grocer wrote on 3 March that Post, the number three cereal maker in the US, was leading the race to buy Weetabix as bid interest has ended from other previously active suitors, notably Nestlé and General Mills joint venture Cereal Partners Worldwide and Italian pasta group Barilla.
Other names previously linked with the deal included Associated British Foods, PepsiCo and Pladis.
Weetabix's most recent annual accounts showed global sales fell back in 2015 as it battled its "most difficult [trading] period for a generation".
Globally, Weetabix's sales, including joint ventures and its North American business, slipped 1.3% to £432.8m in the year to 2 January 2016. In its UK business sales fell 2.4% to £350.8m.