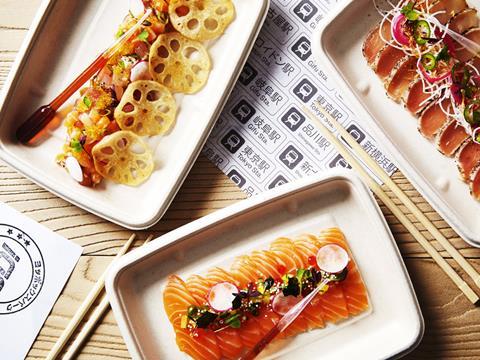 The acquisition of sushi specialist Snowfox Group by Japanese foodservice giant Zensho has been completed as new accounts show the strength of growth under its previous owner.
The $621m (£506m) deal for Zensho to buy the Yo Sushi owner from PE player Mayfair Equity Partners has received final regulatory approval. It marks the largest consumer exit by a UK PE firm this year.
"I am delighted that Snowfox will be joining forces with Zensho," said Snowfox CEO Richard Hodgson, who will remain at the group. "We share similar values and an ambition to provide high-quality, authentic Japanese food to people throughout the world."
It comes as group accounts show overall revenues topped £300m in the financial year to 27 November 2022, rising 34% to £300.7m.
It also moved into operating profit of £5.4m from a loss of £5.8m, though it posted a total pre-tax loss of £24.7m due to £30.2m of net interest payable.
EBITDA rose by 14% to £39.2m from £34.4m.
Growth was driven by continued expansion in North America, with deepened relationships with key retailers and the expansion of its in-store kiosk footprint.
Its restaurant business was also aided by the first year of trading free of pandemic restrictions, which saw sales increase by 45% to £63.5m in the division.
Like-for-like turnover growth across is 1,820 franchised kiosks was 6% as it build on a rapid sales uplift during Covid, while corporate kiosks saw a 78% sales jump in new openings to £94.6m.
It also opened a franchised fresh cut fruit & veg service to grocery partners in the US during the year called Snowfruit.