Weetabix is moving beyond breakfast and into the chilled aisle
Weetabix made a significant move beyond the breakfast category last week with its acquisition of protein drinks business Ufit, as US owner Post Holdings looks to inject growth into its UK business.
The deal to buy Ufit owner Lacka Foods represents the first Weetabix acquisition since Post Holdings invested £1.4bn in the cereals stalwart – and in fact the brand's first major acquisition since buying Ready Brek back in 1990.
Weetabix is thought to have paid around £30m for the fast-growing protein shakes business, but the deal is perhaps less notable for its size than its strategic implications.
Notably, it moves Weetabix both outside the breakfast occasion and into the chilled aisle for the first time, enabling the business to benefit from the post-Covid return of impulse purchasing and convenience.
Complementing ranges
Weetabix is no stranger to the ready-to-drink dairy category. Faced with long-term decline in traditional breakfast occasions before the advent of Covid and at-home working, the brand launched its On The Go range into ambient aisles in 2014.
But one City observer notes Ufit "plays a subtly different role to what the Weetabix brand can do" and "complements rather than competes" with its existing range.
"It is an obvious way for Weetabix to complement the existing offering with something that commands shelf space in the chiller cabinet in an important area of store," the source says.
Indeed, Weetabix's On The Go range suffered under Covid as on-the-move breakfasting reduced markedly. Annual sales for its drinks range fell back from over £14m pre-Covid to around £10m annually, despite a 54% share of the category – though it is understood to have returned to growth since Covid restrictions were relaxed.
In contrast Ufit, which is pitched as a health-focused protein drink, fat-free and with no added sugar, saw sales continue to grow as Covid brought health concerns to the fore. Ufit's annual retail sales rose by 33% to £13.1m last year [NielsenIQ 52 w/e 11 September 2021].
A Weetabix spokesperson said: "UFit complements our current On The Go range, offering a strong protein-focused product range that offers growth opportunities in different parts of the store."
"This is an opportunity for Weetabix to support UFit's expansion in the fast growing high-protein shakes market both in the UK and internationally."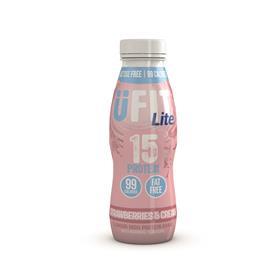 Looking ahead, Ufit's health credentials are also likely to position it as a strong beneficiary from forthcoming HFSS rules.
Notably, protein drinks have become an increasingly important aspect of Post's US business, according to another industry source, meaning the category is a natural extension of its UK business, currently built around Weetabix.
Though the companies will be run separately, with Lacka's existing management team remaining in place, the deal points to Post's UK strategy of using Weetabix's significant market presence as a beachhead for expansion into adjacent categories. "This may signal further ambitions from Weetabix on the acquisition trail," the City source notes. "Post's strategy is to grow by acquisition, so I'd expect more from them."
It is understood Post has been involved in processes for significantly bigger-ticket UK-focused branded companies, also outside the cereal aisle.
Further diversification would no doubt bolster Weetabix, which has struggled for consistent growth since its acquisition by Post as a result of the challenges in the cereal category.
Under Post, revenues at Weetabix UK did not recover to their 2016 pre-acquisition levels of £313m until 2019. And while they rose to £331m in 2020 as Covid lockdowns boosted the performance of more traditional breakfast brands, the challenge for Weetabix is to replicate this upturn in trading as consumer behaviour returns to pre-Covid normality.
Post's latest first quarter results from the US show Weetabix volumes declined 4.4% in the first three months of 2022 against tough Covid-driven comparisons of the previous year, though it remains the UK's biggest breakfast brands with domestic sales of over £250m.
So Ufit – which is already available across the mainstream grocers – is likely to become an important growth engine for the group in the UK. Austin Bailey, founder and MD of Lacka Foods, called the deal "a transformational step in the Lacka Foods story" to supercharge its growth in the UK and internationally.
And all the signs suggest Post's ambitions in the UK will not be limited to this one high-growth addition.