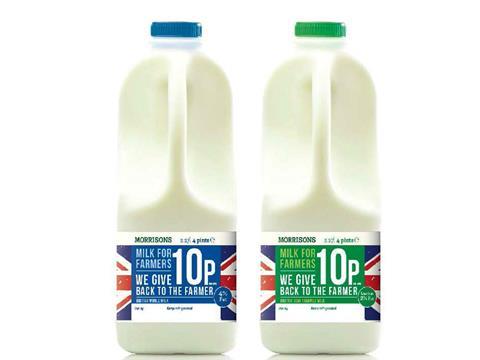 Arla has agreed a major new milk deal with Morrisons, which will see the dairy co-op supply all of the supermarket's own-label milk.

Morrisons will cease to source own-label milk from its other major supplier Müller, as part of the three-year deal – which kicks off next March.

It is understood Arla had previously supplied about 65% of the own-label milk sold by Morrisons, with the shortfall made up from milk supplied by Müller and other smaller suppliers. Arla also supplies the milk for Morrisons' Milk for Farmers range.

With the retailer in the midst of a major push into local food sourcing, Morrisons said the milk deal also represented a further enhancement of its "regional and local milk offering".

The Grocer understands this could lead to the introduction of new regional own-label milk offerings across the Morrisons estate, which would tie in with the retailer's local food sourcing strategy. However, Morrisons declined to comment further on its plans.

"We believe this agreement will be simpler for our business and will help to develop a sustainable dairy sector," said Morrisons head of trading Steve Newbould.

The contract would also allow Morrisons to work "more closely with farmers on a range of sustainability and animal welfare measures", the retailer added.

"This is very welcome news and we are delighted by Morrisons' continued support for Arla and our farmer owners," said a spokesman for Arla. "We look forward to an exciting long-term relationship with Morrisons, collaborating further on a number of initiatives that will further champion British dairy."

Müller said Morrisons remained "an important and valued customer". A spokesman said it would continue to provide a range of Müller branded dairy products to Morrisons, including Frijj flavoured milk and a range of yoghurts and chilled desserts, "to support their dairy category offering to consumers".