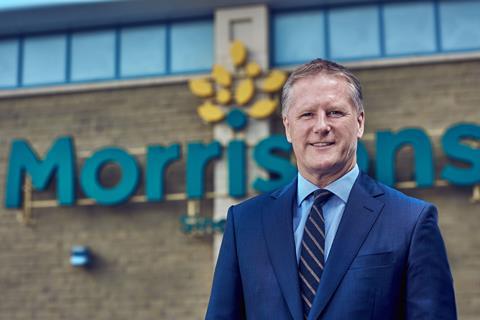 Morrisons CEO David Potts is to step down from the supermarket after nine years at the helm, it was announced today.
US owners Clayton Dubilier & Rice (CD&R) revealed it had appointed Rami Baitiéh, formerly chief executive of Carrefour France, as its new boss.
Morrisons has faced a tough battle to maintain its place in the supermarket hierarchy with the rise of the discounters, with Aldi taking its place in the top four last year.
Today the group revealed like-for-like sales, excluding fuel, were up 2.9% year on year in the third quarter, although Potts has been forced to undergo a frenetic series of price-cutting moves to try to keep the supermarket more competitive.
There has been speculation about when Potts will step down for the past two years.
in January last year, Morrisons was forced to deny reports CD&R had employed head-hunters to begin a search for a successor after Potts, who has been at the helm since 2015, signalled his intent to step down. Baitiéh will take up the role in November and CD&R said it would work closely with Potts to ensure a smooth handover period.
Born in Lebanon, before moving to France, Baitiéh began his career with Carrefour Group in 1995, working in stores and serving in various roles in merchandise, IT and supply chain, in France, Romania and Poland. In February 2015, he was appointed CEO of Carrefour Taiwan, before being made CEO of Carrefour Argentina in January 2018 and then Spain the following year.
In July 2020 he took the helm of Carrefour France, leading 150,000 employees across 5,800 stores.
CD&R highlighted his success in returning the loss-making business in Argentina to profitability within a year, growing sales significantly in Spain and delivering more than 30 months of share growth in France, growing revenues by more than €10bn.
Terry Leahy, senior advisor at CD&R, described the new boss as an "exceptionally talented and highly capable leader".
He said: "He has a strong track record of driving performance wherever he has been posted.
"Rami will bring energy, innovation, and dedication to expanding Morrisons loyalty programmes and digital reach, while ensuring that the company's long legacy of quality, and mission to deliver value for shoppers, is preserved."
Leahy also paid tribute to Potts for "nine years of dedicated service".
"This is a bittersweet farewell for me because I have known and worked with David for decades, but I will be happy to see the start of his next adventure.
"David skilfully led the renewal of the Morrisons brand as well as navigating several twists and turns during his tenure, including the Covid pandemic and the cost of living crisis, but he leaves the company poised for growth.
"He spearheaded Morrisons' acquisition and integration of McColl's, expanding the business's footprint into convenience, and recently re-launched the successful Morrisons More Card loyalty programme. We are grateful for his extraordinary service and wish him all the best."
Potts said: "Serving as Morrisons chief executive for the last nine years has been the privilege of my working life. There have been so many highlights but the way all our colleagues rose to the immense challenge of the Covid pandemic, fed the nation and made sure no one was left behind will stay with me forever.
"Rami is joining a very special company with talented and dedicated colleagues and a unique position in British grocery, food making and farming.
"The Q3 results today show that the business is once again on a steady growth path with plenty of opportunities ahead and I'm full of confidence about its future. In my remaining time as CEO, I will be working hard to prepare for the handover, and I look forward to giving Rami all the assistance and advice that he needs during the transition.
"Terry and I have had several conversations about succession since the buyout in 2021. We had a clear understanding that I was prepared to devote several more years to Morrisons if that was required, but that if an outstanding successor was identified who could lead Morrisons for the long term, then I would step down.
"After a reasonable shift on the frontline of British grocery retailing, I'm looking forward to a short break with my family and will then look for further ways to contribute to business and to the UK's economic recovery from the pandemic. I will continue to be an investor, supporter,and advocate for Morrisons and look forward to watching its continued progress and development for many years to come."
Baitiéh said: "Morrisons holds a special place for shoppers across the UK, and I am honoured to be joining the business to help build on the strong links the company has with its loyal customers and the communities where it operates.
"As a manufacturer, wholesaler and seller of food, Morrisons is uniquely positioned to grow in the coming years while remaining deeply focused on customer satisfaction. I also want to acknowledge the talented and hard-working members of the Morrisons team that continue to make Morrisons an employer of choice in Britain.
"Our people are our great strength and I see tremendous opportunity for team development in the coming months and years. I look forward to building on David's strong legacy of always putting shoppers first and thank him for his help in the transition."