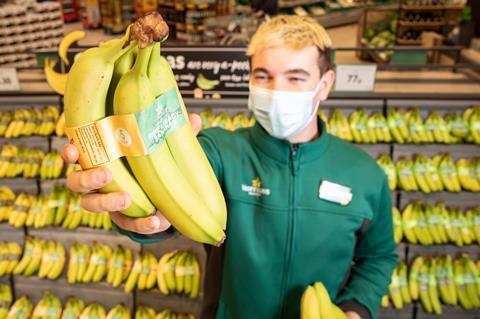 Morrisons is removing plastic bags from all of its bananas in efforts to reduce its plastic usage and go back to "traditional grocery packaging methods".
The retailer is replacing the plastic bags currently used to package some banana bundles with new paper bands across all stores.
The move is expected to remove around 45 million single-use plastic bags a year (or 180 tonnes of plastic) from Morrisons stores, where bananas are the second most frequently bought product.
It comes after a 12-week trial scheme that resulted in over two million pre-packed plastic bags being avoided. The paper band rollout will take place over the next six months.
The new paper packaging, which is made from FSC-certified paper, will feature information such as country of origin, barcode and Rainforest Alliance, Fairtrade and Soil Association Certification.
"Bananas have their own packaging – their skins. They also grow in bunches, which generally means they don't need bagging together," said Morrisons banana buyer Elio Biondo.
"A simple sturdy paper band is the ideal alternative. In trials the quality of the bananas has remained the same, so this switch-out of plastic is a no-brainer."
Morrisons recently announced plans to become the country's first "zero waste" supermarket as it remains committed to halving its own-brand primary plastic packaging by 2025.
It kicked off a trial in partnership with Nestlé across six stores in Edinburgh which will see all packaging waste recycled in the UK.
Read more: Morrisons' 'zero waste' trial is a positive indicator of a return to normal
The grocer also introduced collection points for shoppers to recycle products that are not usually recycled by their local authorities, such as crisp bags and face masks.
If successful, the zero-waste format will roll out to all 498 Morrisons stores over the next year.
Morrisons has also implemented other initiatives such as reintroducing paper and string bags for fruit and vegetables and allowing customers to refill their containers at its Market Street counters.
It also recently launched a glass milk bottle trial, in which dairy farms deliver bottles of milk directly to their local Morrisons – which can then be returned by customers in order to be sanitised and reused.
Morrisons said it has reduced own-label plastic packaging by 8,000 tonnes since 2017.