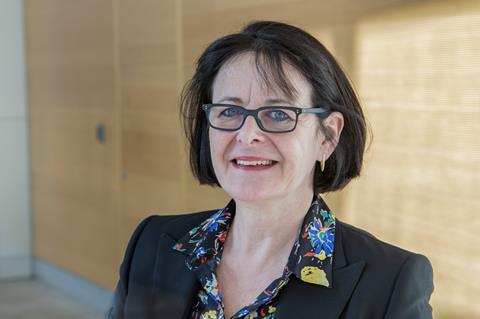 Co-op deputy CEO Pippa Wicks has been poached by John Lewis Partnership to take charge of the John Lewis department store chain and fill the final seat on the new seven-person executive board.
It follows the appointment in April of former Sainsbury's grocery buying director James Bailey as the boss of Waitrose.
Wicks will join the partnership in August as executive director for John Lewis, with responsibility for trading, merchandising, marketing and developing propositions and services for the chain's shops and online offering.
Chairman Sharon White said Wicks was a good fit for JLP as it shared similar values to the Co-op Group.
"She brings a wealth of experience of leading and developing businesses that deliver brilliant products and services to customers, both online and in stores," White added.
"Pippa has an exceptional track record, including at the Co-op Group, which, as a membership organisation, shares similar values to the partnership in terms of the commitment to the communities we serve."
Wicks said: "I feel extremely privileged to be joining the John Lewis Partnership at such an important time in its history.
"As executive director responsible for the John Lewis business I look forward to working closely with partners to steer through these extraordinary times in society and in retail. As the biggest employee-owned business in the UK and one of the biggest in the world there is an opportunity to provide both exceptional service for customers as well as really meaningful work for partners."
The new appointment forms part of a seven-strong executive team, headed by White, and follows James Bailey joining as executive director of Waitrose in April.
The recruitment of bosses for Waitrose and John Lewis by White marks a departure from former chairman Charlie Mayfield's controversial Future Partnership shake-up, which saw the former bosses – Rob Collins and Paula Nickolds – leave the group.
"John Lewis and Waitrose are two of the most loved brands in the UK, and the partnership the largest social enterprise," White said today.
"As we emerge from the pandemic, there is tremendous opportunity for John Lewis to play an even bigger role in people's lives. I am confident that under Pippa's leadership the brand will continue to thrive."
Simon Coble will continue in his role as trading director of John Lewis, reporting directly to Wicks.
A Co-op spokesman said Wicks had been planning to move on to new opportunities this summer and discussing the best timing with CEO Steve Murrells since the autumn of last year.
"She'll be greatly missed by colleagues and members and we all wish her well for her new role elsewhere in the co-operative and mutuals sector," the spokesman said.
An external recruitment process to find her replacement is underway.
Wicks started her career as a senior manager with strategic management consultancy Bain & Company and went on to be group CFO of Courtaulds Textiles, one of Europe's largest textile and clothing manufacturers, for seven years. She then became CEO of education provider FT Knowledge, a division of Pearson, before joining management consultancy Alix Partners in 2003.
In 2013, Wicks became involved with the Co-op when she was part of the team tasked with rebuilding the mutual after its near collapse. She was appointed COO in 2014 when the group was back on its feet – becoming deputy CEO to Steve Murrells in March 2017.