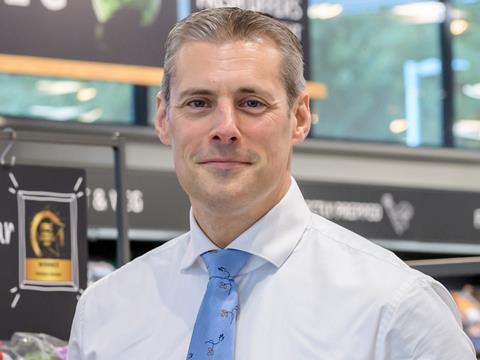 Matthew Barnes, who oversaw the transformation of Aldi in the UK and is credited with reinventing the discounter format, has won promotion to a new role at the Aldi South Group, with responsibility for Aldi's burgeoning US operation, as well as the thriving UK and Ireland operations.
Barnes will join Aldi's so-called Coordination Board, where he will be one of only four Aldi executives, reporting into the Aldi family's shareholders. He will split his time between the HQ in Salzburg and Aldi's stores in the UK, Ireland and the US. He will also join the Board of Hofer KG, Salzburg (Austria), which acts as the management holding for the Austrian and international shareholdings.
His promotion, effective 15 April, follows the retirement of Robert Ochsenschläger, and will result in further changes within the UK operation, with group MD Giles Hurley promoted to CEO of UK & Ireland from 1 May. The other group MD, Dan Ronald, will continue in his role, supported by Oliver King, who was recently promoted to joint group MD.
Barnes told The Grocer he was "tremendously excited at this fantastically exciting opportunity to broaden my horizons". The US business, which operates 1,700 stores, has been expanding rapidly in recent years, and has pledged to grow its estate to 2,500 stores by 2022, but with such a sizeable population, there was "the capacity for thousands more stores".
"The US business is not particularly well known to me. I'm having a fairly extensive induction. But it's very successful, growing for many years, and there's lots of opportunity to grow stores still further. I just need to understand the business more and then let's see."
Barnes admitted to mixed emotions, after working with "amazing people, and having been on a fantastic journey, with so much more for us still to aim for."
His departure would not adversely affect Aldi's performance in the UK and Ireland, he said.
"We've just closed off a fantastic January. Growth is accelerating. And the great news is, while Giles takes over the day-to-day running of the UK and Ireland operation, I'm still overseeing the UK and my family home will still be here. The difference is just that I will personally be doing a lot more travelling and have wider responsibility."
A 21-year Aldi veteran, Barnes returned to the UK in 2010 as joint managing director, after a spell at Aldi's Australia operation, with the UK and Ireland operation haemorrhaging cash.
Since his arrival Aldi's share has more than trebled, from 2% in January 2010 to 6.9% in January 2018 [Kantar] while sales have grown from £2.2bn to over £10bn in 2017. And in an interview with The Grocer last year, he predicted that its current 770-strong estate (over 900 including Ireland) could rise to at least 1,000 by 2022.
Asked what his most important contribution had been at Aldi UK, Barnes said: "Adapting the discounter model to the British consumer, making the range relevant, with more British products, more fresh items and more choice. We had tried for 20 years to replicate the discounter model and it wasn't working. We undertook an extensive customer listening exercise. That resulted in a very extensive (ie 50%) increase in the number of lines, including a disproportionate number of chilled lines. And then, of course, there was backing that up with marketing that highlighted the changes to British consumers.
"The job is never done. There is still an awful lot to do. The Project Fresh programme is incredibly ambitious. But there's a lot more to go for too. Just over 50% of British consumers shop at Aldi. We've got very clear plans. Both Giles and I are crystal clear on what needs to be done."
There have also been big changes to the buying team at Aldi in recent months. With Tony Baines retiring last December as joint managing director of buying, Julie Ashfield was promoted in January 2017, and now works alongside Jonathan Neale, with responsibility for products, marketing and finance.