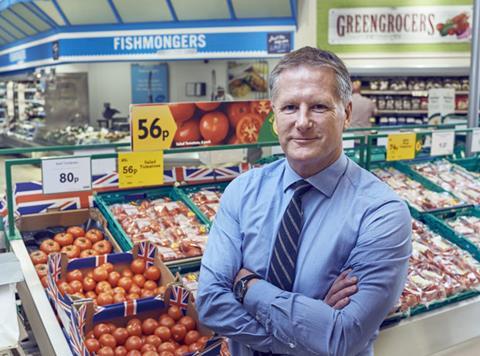 David Potts saved Morrisons from "oblivion" said former Morrisons chairman Andy Higginson and deserved to be remembered as a key figure in grocery retail history.
Speaking exclusively to The Grocer following the announcement that Potts was stepping down after nine years in the post, Higginson hailed his contribution while adding that he would have been a great CEO at Tesco had fate worked out differently.
US owner Clayton Dubilier & Rice, which acquired Morrisons in 2021, apppointed Rami Baitiéh, CEO of Carrefour France, as its new boss this week following a lengthy and extensive headhunting exercise.
Announcing the news, Sir Terry Leahy, his former boss at Tesco and now senior adviser at CD&R said Potts was a "remarkable person" who "did amazing things at Tesco and then a great job at Morrisons, recovering the brand and leading the business through Covid."
Potts went further calling with his leadership of Morrisons and the wider industry in the pandemic his "crowning glory".
"I always remember on day one we had 25,000 of our staff off. It could have been a disaster but David rose to the challenge. He instinctively knew how to handle the crisis."
Since the cost of living crisis, however, Morrisons has struggled, losing its place to Aldi in the top four last year.
This week the group revealed like-for-like sales, excluding fuel, were up 2.9% year on year in the third quarter, as Morrisons has been forced to undertake a series of price-cutting moves to try to make the supermarket more competitive.
There has been speculation about when Potts will step down for the past two years. In January last year, Morrisons was forced to deny reports CD&R had employed head-hunters to begin a search for a successor, although Potts this week admitted he had discussed his succession with boss Sir Terry Leahy several times, having decided to wait until the right candidate could be found.
Baitiéh will take up the role in November and CD&R said it would work closely with Potts to ensure a smooth handover period
Potts succeeded Dalton Phillips at Morrisons in 2015, having left Tesco in 2011 after falling out with Leahy's successor Philip Clarke.
He worked at Tesco from the age of 16, going on to head its operations in Ireland, Asia and the UK over a 40-year period.
"There aren't many people who these days work 50 years in one industry," added Higginson. "There are even fewer who are so successful as he was at two of the UK's biggest food retailers.
"When I was brought in as chairman the core retail operation had been allowed to drift. There was only one person I wanted as CEO and that was David.
"He was exactly the right guy to come in and get a grip, which he did brilliantly."
As well as turning around its financial performance, Potts went on to renegotiate its restrictive relationship with online supermarket Ocado and launch into convenience with the acquisition of McColls.
Following its £7.1bn CD&R takeover in 2021, Morrisons has been weighed down by huge interest payments on the debt it took on.
"He could have stepped down when the owners came in, but I think he simply loves the work," added Higginson.
Shore Capital analyst Clive Black said Potts was "one of the greats", and described this week's announcement as a "key moment in the history of British grocery retailing".
He "undertook a remarkable textbook turnaround, keeping Morrisons alive and overseeing a sale process for which shareholders will be forever grateful."Despite putting in a "reasonable shift on the frontline" Potts said that "after a short break with my family", he was looking for "further ways to contribute to business and to the UK's economic recovery from the pandemic."
I will continue to be an investor, supporter and advocate for Morrisons and look forward to watching its continued progress and development for many years to come."