Sainsbury's has appointed two new members to its board ahead of Simon Roberts taking the reins next month.
Keith Weed and Tanuj Kapilashrami join as non-executive directors on 1 July to replace outgoing board members Matt Brittin and Jean Tomlin.
Weed will be a member of the audit, the corporate responsibility & sustainability and the nomination committees and Kapilashrami will join the nomination and remuneration committees.
Weed spent 36 years at Unilever, most recently as chief marketing and communications officer, which included leading the consumer group's sustainability programme globally. He led different parts of Unilever's businesses, including working as a supplier to Sainsbury's when he ran the home and personal care business in the UK in the early 2000s.
Sainsbury's said he had "an excellent understanding" of digital and the ways technology was transforming businesses. He is also a non-executive director of advertising giant WPP.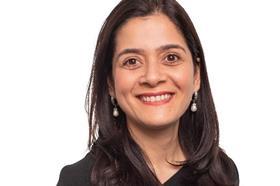 Kapilashrami is an experienced HR professional and is currently group head of HR at Standard Chartered Bank. She joined the bank in 2017 from HSBC, where she spent 17 years in global and regional operational HR roles.
Sainsbury's chairman Martin Scicluna said: "I am confident they will both make a valuable contribution to Sainsbury's.
"Keith is an exceptionally capable marketing and digital leader who has championed new ways of integrating sustainability into business and building brands with purpose. He will play an important role as we focus on helping our customers to live well for less.
"Tanuj is a thoughtful and energetic HR leader who has significant international insights. She will be an excellent addition to the board as we continue to adapt our business and support our colleagues in a rapidly changing marketplace."
Brittin and Tomlin, who announced their intention to leave the business in October 2019, will step down at the AGM on 2 July.
"I would also like to thank Matt and Jean for their excellent contributions to the business," Scicluna added. "Matt has been on the board for nine years and Jean for more than seven. I am very grateful to them both and wish them all the best for the future."
Weed said: "I am very pleased to be joining the Sainsbury's board at such an important time of change for Sainsbury's and the industry. I have worked closely with Sainsbury's and other retailers both in the UK and internationally. I look forward to contributing to Sainsbury's future, leveraging my experience and understanding of building businesses in a rapidly changing world – from customer focus and sustainability, to digital and data."
Kapilashrami added: "I am delighted to join the board of Sainsbury's, an iconic British company with a strong focus on customers and deeply embedded values. Customers and colleagues are at the heart of Sainsbury's and I am looking forward to helping to continue the growth and transformation of this exciting business."