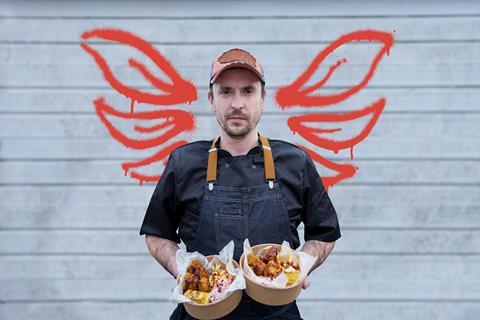 Name: Adam Lyons
Job title: Co-founder
Company: VFC
What was your first job? An RAC marshal at Rye House Raceway, where I used to watch Lewis Hamilton as a child.
What's been your worst job interview? I once went for an interview at a restaurant. The owner/chef was so busy running around that he left me in the kitchen alone and checks started coming through the printer. I proceeded to start cooking them and after a while he came back and was furious with me. Let's say I didn't get the job…
Ten years or so later I was walking through my own restaurant talking with guests and when I arrived a table, there he was eating with his family. We laughed a lot about that day and remain friends.
What was the first music single you bought? WWF Slam Jam – I was a big wresting fan when I was 10.
How do you describe your job to your friends? I'm a food activist, changing people's perspective on plant-based food.
What is the most rewarding part of your job? We have a chicken life saved counter on our website. If I am ever having a bad day and feeling a little overwhelmed, I just look at that.
What is the least rewarding part? Travel. I spend a lot of time travelling – it sounds great but it's basically trains, planes, and automobiles.
My Instagram looks great! But the reality is a Deliveroo meal to a hotel room.
What is your motto in life? Let's make the world taste a little better.
If you were allowed one dream perk, what would it be? I'm a huge F1 fan and a life-long membership to the Silverstone Paddock Club would be just about perfection.
Do you have any phobias? Acrophobia, heights freak me out! Something I will need to tackle in life. Last year I completed Tough Mudder but wouldn't do the big climbs, so I need to get over this.
If you could change one thing in grocery, what would it be? Long-term relationships with buyers would be great. It's such a fast-paced environment and they change so regularly, just as you're working through NPD programmes and understanding what they want from our brand, they get whisked away to a different category and you have to start again.
What luxury would you have on a desert island? Truffle oil, it goes on everything! I haven't tried it on a coconut yet, but willing to give it a go!
What animal most reflects your personality? Rottweiller. On first impressions I can be loud and brash and a little confrontational, but once you get to know me I am protective, loyal and a lifelong friend.
What's your favourite film and why? I love the James Bond movies. If I had to pick one then probably Casino Royale. Fast cars, dangerous villains and all the glitz and glamour of a secret agent movie!
What has been the most embarrassing moment in your life? I was 17, had just passed my driving licence and reversed down my street at speed, lost control and crashed into three of my neighbour's cars. Not my finest moment.
Which celebrity would you most like to work with and why? Romesh Ranganathan. He's vegan and hilarious with it and tells people straight to the point. One of the best lines he's ever said is "people who are vegan think they are better than people that are not, it's because they are".
What would your death row meal be? Milanese, loaded with shaved parmesan and fresh truffle. Once we have perfected the vegan fried egg, you can throw one of those on top.