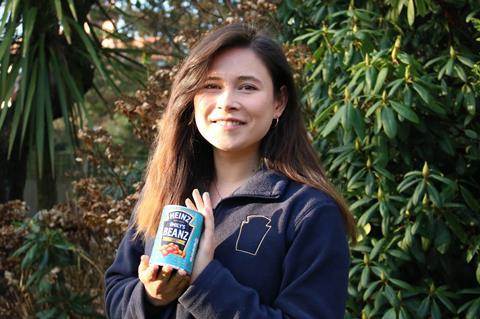 Name: Emily Wright
Age: 25
Job title: Innovation brand manager
Company & location: Kraft Heinz, London
Education: University of Cambridge, Economics
Why did you decide to go for a career in food? I wasn't necessarily looking for a career in food, but I think I ended up being attracted to it because food can create strong connections between people, but also to places and cultures. For me, food is such a big part of my own culture and identity – growing up in a mixed-race family, eating my mum's Chinese food was a way to feel connected to that heritage. It was also an easy way for my grandparents to show affection without language, through the medium of dumplings. My mum now proudly buys several six-packs of Heinz Beanz in one go, telling me she's "helping me hit my target".
Explain your job to us in a sentence (or two): My role as an innovation brand manager means I am responsible for the strategy and execution of new product development within the baked beans, pasta and soup categories. This involves a combination of portfolio strategy, market and consumer insights analysis, and concept development, as well as ensuring we have the right creative strategy and communications plan for launch.
What does a typical day look like for you? Our work schedule will tend to be driven by where we are in the innovation process. In the product development stage, there would definitely be some product tastings – getting a lockdown delivery is always fun! Every part of the innovation process is collaborative, leveraging the team's expertise on subjects such as how sunlight can affect the fluffiness of spinach. My team are also really focused on work-life balance and looking after ourselves – and so we are encouraged to take an hour off at lunchtime to have a proper break and go outside for a walk if possible.
Tell us about how you went about applying for your job. There were several stages to applying to the trainee programme at Kraft Heinz, including a 30-second pitch video on why I'd like to join, online tests, a phone interview and finally an assessment day. I actually found that the hardest part was filming a 30-second video alone in my bedroom – I'm just praying that it has now been deleted from all servers.
"It has been an immense privilege that as a food company, we have been able to help others during lockdown"
What's the best part about working for a food company? The obvious part is the free food, and definitely in my first year there were some late nights when I was very thankful for the Spaghetti Hoops in the marketing cupboard. However, I think it's also the general foodie culture – so many people that work for Kraft Heinz have been in part driven by a love of food, and trying out new restaurants and types of food makes for a great way to connect as a team. It has also been an immense privilege that as a food company, we have been able to help others during lockdown. I've been so proud of the work my team has done in the past year – donating free meals to schools, and working with Magic Breakfast and Marcus Rashford to lobby for better policies to provide free school meals.
And what's the biggest misconception people have about working in food & drink? I'm always being told I must have the easiest job in the world working in marketing for Heinz because our products are so well-known that I don't need to do any marketing! What innovation could improve the nation's favourite Heinz Beanz? The reality is that not only are we constantly improving our current products, but we also need to constantly evolve to meet consumer needs. The arrival in 1901 of Heinz Beanz in the UK changed the way Brits ate back then, and we want to make sure we're the ones that launch the innovations that define the next era of food.
What advice would you give to other young people looking to get into the food & drink industry? My advice would be to make sure you do your research when applying to any company or role, and try to really understand what excites and interests you most about the industry. I think it really shows when someone has done their homework on the company they're applying to, and it's even better if they can speak passionately about the parts of the industry that excite them.
What's your ultimate career dream? My ultimate career dream is to be one of the four people in the world who know the secret recipe for Heinz Beanz. I'd guard it with my life. Failing that, I'd love to be a marketing director for a brand driven by purpose – making a positive impact on the lives of consumers.