According to our latest category report, supermarkets have sold 14 fewer tonnes of cereal in the last year but brands can improve their chances of survival by making the most of demand for healthy options, new flavours and on the go formats. Here's our pick of the most innovative breakfast options arriving in stores.
Moma Almond Butter & Salted Caramel Sachets
Launched: February 2018
Manufacturer: Moma
RSP: £2.99/5-pack
British porridge brand Moma's new almond butter & salted caramel flavour porridge pots proved so successful following launch in Tesco in October that the brand is putting the flavour into sachets. Boxes of five 'speedy sachets' of the gluten and dairy-free porridge will hit Tesco on 15 February, the first of "plenty" of NPD the brand plans in 2018. Moma says brand value sales are up 144% year on year thanks to more shoppers buying into Moma and buying more when they do.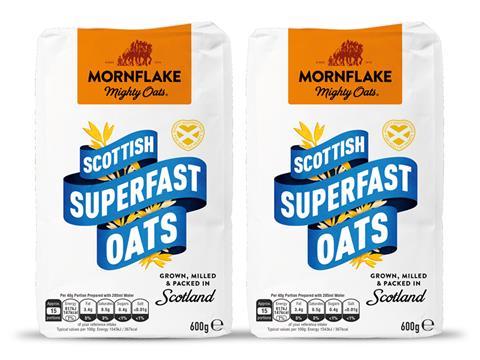 Mornflake Scottish Superfast Oats
Launched: January 2018
Manufacturer: Mornflake
RSP: £1.29/600g
With porridge to thank for the solid performance of hot cereals, Mornflake has added to its Superfast range of porridge oats with a Scottish offering. Exclusively grown, milled and packed in Scotland, the oats are cut into three before being rolled so they absorb water and milk quicker and cooking time is reduced.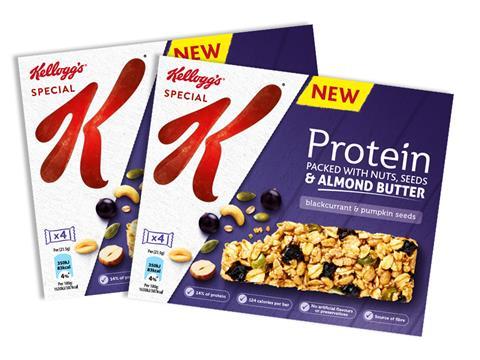 Special K Protein cereal bars
Launched: January 2018
Manufacturer: Kellogg's
RSP: £2.99/4 pack or 89p each
With protein and nut butters trending in cereals, Kellogg's has expanded its Special K brand into protein bars as part of what it calls its 'better-for-you' snack offering. The bars are made of plant-based ingredients and feature blackcurrant, pumpkin seeds and almond butter with 124 calories and 14% protein per bar.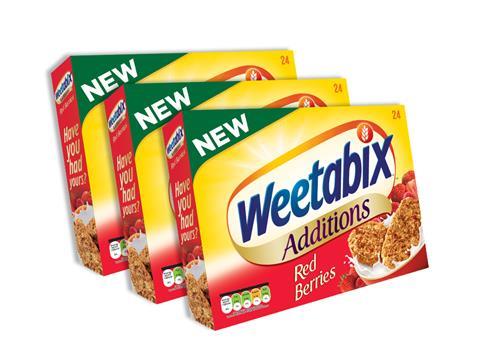 Weetabix Additions Red Berries
Launched: January 2018
Manufacturer: Weetabix
RSP: £2.99/24 biscuits
Weetabix is adding to its Weetabix Additions range of fruit-enhanced wheat biscuits, first launched a year ago, with a new red berries flavour. The new variant joins Apple & Raisin and Coconut & Raisin Weetabix Additions, which are high in fibre, low in salt and fortified with vitamins and minerals.
Rude Health Puffed Spelt
Launched: January 2018
Manufacturer: Rude Health
RSP: £1.79/125g
Puffed spelt is the latest addition to Rude Health's breakfast offering, featuring 100% spelt and nothing else. With no added salt the ancient whole grain is high in fibre and serving suggestions include doused in milk, sprinkled over a smoothie or straight from the box. Puffed spelt is Rude Health's second breakfast launch so far in 2018: Naked Barley Porridge, the brand's 'raunchiest' launch yet, contains 100% naked. barley flakes. The puffed spelt is available through Waitrose and Ocado and the naked barley porridge is available through Ocado and Wholefoods.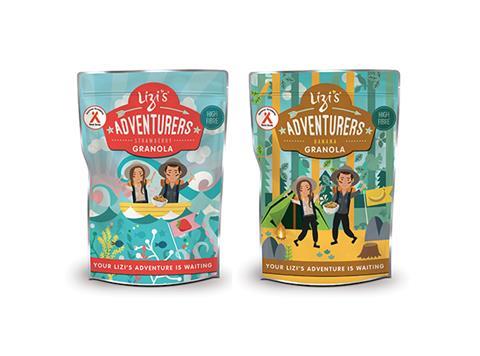 Lizi's Adventurers Granola
Launched: November 2017
Manufacturer: Lizi's Granola
RSP: £3.69/400g
Aimed at kids aged five to 13-years-old Lizi's Adventurers Granola comes in strawberry and banana flavours and is designed to appeal to parents looking for lower sugar breakfast options for their kids. With 10g of fibre per 100g and just 3.5g of sugar per 30g serving the granola promises to keep kids fuller for longer. The brand is partnering with the Bear Grylls Survival Academy in an on-pack promotion encouraging parents to visit the brand's website for a chance for a chance to win a Bear Grylls Survival Academy experience for themselves. The NPD launched in Waitrose and will roll out to other major retailers at the end of January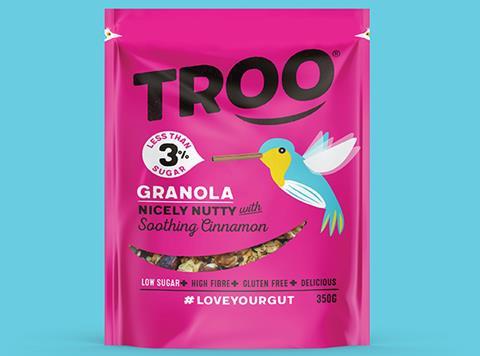 Troo Granola
Launched: November 2017
Manufacturer: TrooFoods
RSP: £4.49/350g
Dubbed 'probably the healthiest granola in the world' Troo Granola contains less than 3% sugar, the same amount of protein as an egg and 25% of the recommended daily dose of fibre per serving. A blend of British jumbo oats, nuts and seeds the granola () is sweetened with the chicory root fibre inulin and comes in super seedy, chocolate and nicely nutty flavours. The brand is one of the first cereals to be packaged in 100% compostable, recyclable and plastic free pouches and stockists include Planet Organic and Harvey Nichols. The brand will enter Ocado in March.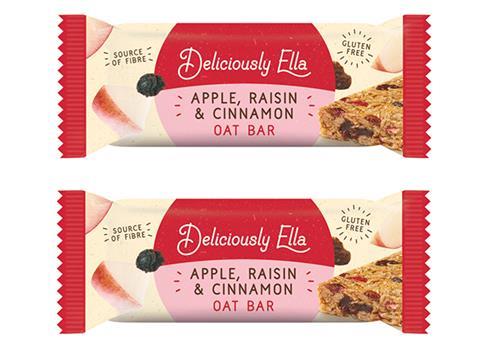 Deliciously Ella Oat Bars
Launched: September 2017
Manufacturer: Deliciously Ella
RSP: 99p/50g or £2.75/3 pack
After entering the breakfast market with a three-strong range of granola and muesli in July 2017 food writer and Instagram star Ella Mills aka Deliciously Ella is back with an oat bar range. Packed with fruit, oats and fibre the three-strong range of bars come in cacao & almond, apricot & coconut and apple, raisin & cinnamon flavours. Exclusive to Tesco, the bars are all gluten free and vegan friendly. Ella, who runs Deliciously Ella with her business partner husband Matthew Mills, says the breakfast range was created following the success of recipes on her blog, app and books.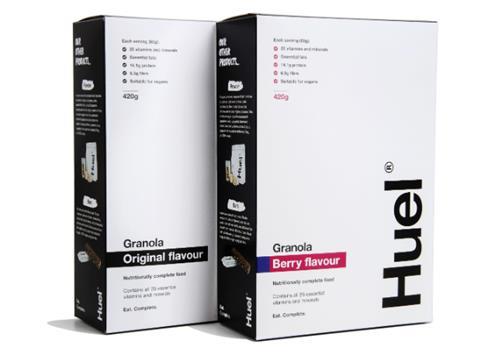 Huel Granola
Launched: January 2018
Manufacturer: Huel
RSP: £4.75/420g
Available in two variants, Original and Berry, the NPD was "the world's first nutritionally complete cereal" claimed Huel, meaning it contained "all the proteins, carbs and fats you need". Huel Granola's launch came because "breakfast isn't what it used to be" said the brand. "Today, people demand a healthy alternative to sugar-laden options on the shelves."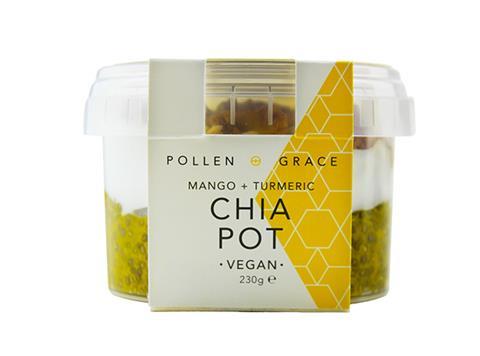 Pollen + Grace Mango and Tumeric Chia Pot
Launched: November 2017
Manufacturer: Pollen + Grace
RSP: £3.99
To keep up with all the plant-based innovations hitting shelves, this trendy granola pot got a makeover to switch the honey out for vegan alternative, rice malt syrup. The pot is also now "a little crunchier" and lower in fructose to aid digestion and maintain good gut health, according to the brand. Available from Simply Fresh, Planet Organic, Selfridges and As Nature Intended.