Asda is bringing the cook-in-bag trend to sausages with a range of bangers targeted at shoppers with an aversion to touching raw meat.
The retailer said its trio of "no mess" own label sausages were a UK first, and represented a convenient, "hassle-free" solution for quick meals and snacks.
The sausages, which are manufactured by ABP in the UK, launched this week under Asda's Butcher's Selection label. They can be oven cooked in 30 minutes and are available in Sweet Chilli, Plain and Cumberland varieties, blended with sweet chilli sauce, spices and black pepper respectively (rsp: £1/pack of four).
"No mess, no washing-up, simply cut a slit in the packaging and pop in the oven for perfectly brown sausages," said an Asda spokeswoman.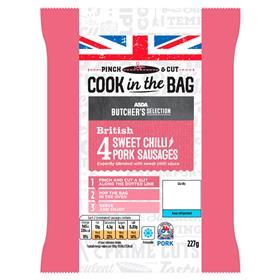 Asda was at the forefront of the roast-in-bag trend that gripped retailers a few years ago in response to concerns about the prevalence of campylobacter in supermarket poultry. It launched its first roast-in–bag whole chickens in 2013, quickly followed by the Co-op and Moy Park.
The move comes a year after Sainsbury's launched no-touch, 'tear and tip' chicken pouches to cater to younger consumers who were "quite scared of touching raw meat". However, the three SKUs under the range have since been delisted.
The launch coincided with the rollout of Asda's summer NPD red meat roster, which includes Wagyu beef hot dogs, doughnut burgers (beef patties with a hole in the middle) and marinated pork belly bites.