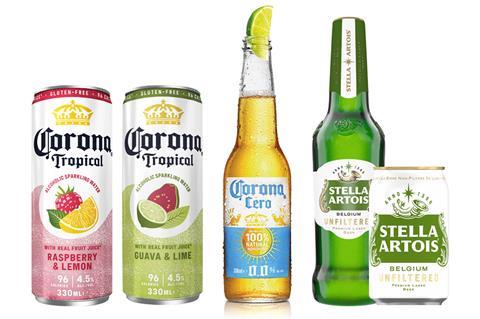 Budweiser Brewing Group has unveiled a trio of major launches for its Stella Artois and Corona brands.
A new unfiltered version of Stella – news of which was first revealed by The Grocer in October, when BBG applied to register it as a trademark – is set to hit shelves in March.
The new brew (5% abv) would offer a "unique and vibrant taste profile" similar to one that "could be found in craft beer", said BBG global brands marketing director Jessica McGeorge.
Stella Artois Unfiltered will be brewed with British barley and the same yeast as its core line, but with the addition of Mandarina Bavaria hop oil, which McGeorge said "balances out the beer and boosts the more fruity and citrusy notes of the lager".
The beer will roll out in 330ml bottles and can packs, with a 620ml single bottle and an on-trade keg launch to follow in June, as well as a six-litre keg for BBG's at-home Perfect Draught machines.
Budweiser has also extended its Corona brand into low & no and hard seltzers. A non-alcoholic version of Corona, called Corona Cero, rolled into Tesco this month with a wider rollout expected in March across grocery and convenience.
Hard seltzer Corona Tropical (4.5% abv), meanwhile, will hit shelves in April in three flavours – Guava & Lime, Raspberry & Lemon, and Grapefruit & Lemongrass – which McGeorge said were chosen to "reinforce the citrus notes" found when drinking the core Corona brew with lime.
Unlike many hard seltzers on the market, Corona Tropical would be made with fruit juice "for natural sweetness" which would be "reinforced in the colour of the liquid versus the more clear liquids we see from the competition", said McGeorge. It will launch in 330ml cans and eight-packs (rsp: £2.75-£16).