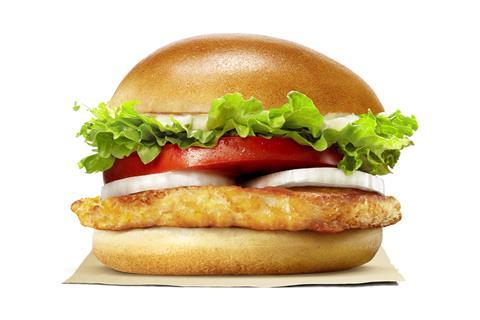 Burger King has become the first major fast food chain to launch a halloumi burger across the UK as it seeks capitalise on the "fever pitch" around the cheese.
The new burger, out today, will be sold nationwide "until mid-September", though Burger King says it has been released "with a view to permeance".
It will be available as a single patty (rsp: £3.99/burger or £5.99/meal) or a double patty (rsp: £5.49/burger or £7.49/meal) and served in a brioche bun with lettuce, onions, tomatoes and mayonnaise.
"After a successful trial in Sweden, which had both the UK media and the public pleading for Burger King to bring the halloumi burger over, this summer will see [its] official launch in the UK," said a Burger King spokeswoman.
"We know how much our UK audience loves halloumi and we have carefully and considerately carried out research and market tests in the UK to make sure we deliver the best-tasting product to fulfil our customers' expectations."
Brits consume over 12,000 tonnes of halloumi every year, according to the British High Commission in Cyprus, and the UK is currently the world's biggest importer of the cheese – accounting for 43% of all shipments from Cyprus.