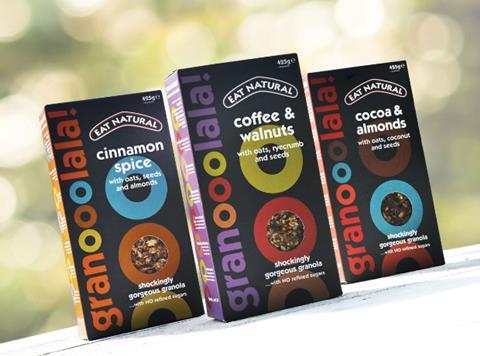 Cereal brand Eat Natural has added Granooolala – a three-strong range of high-protein granola with no added sugar.
Rolling out to Waitrose in early September, the premium NPD contains between 15.1g and 16.7g of protein per 100g, with sugar at 8.2g to 10g (rsp: £2/425g). Variants are cocoa & almonds with oats, coconut and seeds; coffee & walnuts with oats, rye crumbs and seeds; and cinnamon spice with oats, seeds and almonds.
The name of the new lineup aimed to reflect its "immense taste profile" through the 'ooo', said the brand, while the 'lala' leant a "dreamland" quality, encouraging shoppers to "let breakfast take you to magical places".
The cereal was "a totally different range of granola" said Eat Natural co-founder Praveen Vijh. It was for consumers "looking for big tastes and a powerful start to the day".
Granooolala's launch comes as take-home sales of branded ready-to-eat cereals are down 4.6% to £935m [Kantar Worldpanel 52 w/e 23 April 2017].