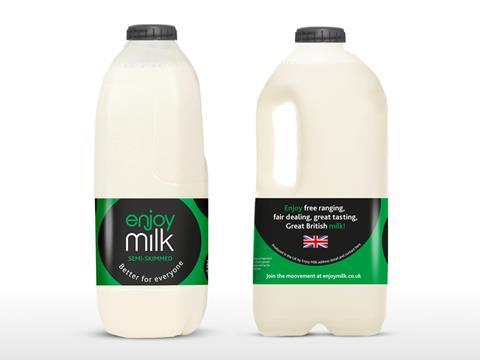 A group of dairy farmers are gearing up to launch a new free-range milk brand in a bid to offer a "tangible alternative" to mainstream own-label and branded milk.

Enjoy Milk is the brainchild of the Free Range Milk Marketing Board - established by former dairy farmer and entrepreneur Nick Hiscox in 2015 - and is supported by industry investment and mentoring programme the Grocery Accelerator and up to 800 free-range dairy farmers.

The group will officially unveil the brand, and a generic marketing campaign for British milk partly inspired by The Grocer's 2016 Dairymen Creative Challenge, on 10 January. It aims to have product on shelf by April.

The brand's strapline would be 'Better for Everyone', said Hiscox, and would "promote all that's great about British dairy farming". He is investing £100,000 into the venture, with further funds coming from farmer members.

"Once up and running, we intend to form a dairy producer organisation, with our farmer members owning the brand and trading revenue," said Grocery Accelerator co-founder Rob Ward.

Ward and Hiscox also plan to allow regional producers that meet its free-range criteria to affiliate with Enjoy Milk. Such producers would keep their own branding and carry black bottle tops highlighting their affiliation.

The business has two production facilities bidding for its initial processing and bottling contract, and aimed to launch a four-pint bottle in whole milk, semi-skimmed and skimmed variants. The rsp would be within 25% of the price of standard milk.
Farmer supply contracts would be flexible, Ward said, available in three, six and 12 month durations.

To be considered "free range" by the Free Range Milk Marketing Board, farmers have to allow cows to graze outside "whenever the weather permits", Ward said. Cows under the rival Pasture Promise scheme have to be grazed outside for at least 180 days a year.