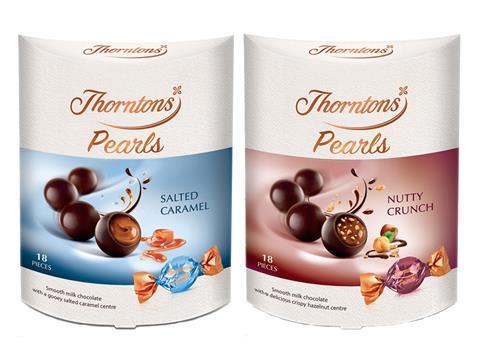 Ferrero is taking on Lindt's fast-selling Lindor range with the launch of its latest gifting product, Thorntons Pearls.
The Italian confectioner's new treat comprises chocolate balls with a soft filling. Individually twist-wrapped in colourful foil, they come in two variants: Salted Caramel and Nutty Crunch.
While physically resembling Lindor, Thorntons Pearls are also similarly priced, with an rsp of £4.99 for a 167g stand-up box. Lindt's product retails at £5 for 200g.
Aimed at younger shoppers – particularly women aged 25-34 – Thorntons Pearls was aimed at the "give to share" market, which was worth £473m, said Levi Boorer, customer development director at Ferrero.
The NPD's price point was lower than that of other Thorntons boxed chocolates to encourage the brand's fans to enter the 'give to share' occasion, he added.
Pearls will arrive on shelf next month, as Ferrero also begins rollout of its Christmas range backed by a spend of £6.74m across its portfolio of brands.
The festive collection will include a new Cheeky Elf figure from Thorntons (rsps: £2-£5) , and a fresh look across the brand's Continental, Seasonal Selection and Christmas Selection boxes (rsps: £5-£10).
Meanwhile, Kinder will add a unicorn (rsp: £7.51) to its Fluffy Toy selection, and run a campaign across Facebook and YouTube inviting consumers to share their "one wish for Christmas" – with the chance of the brand making it come true.
Kinder will also add two advent calendars, Mini Mix (rsp: £11.99) and Surprise Egg (£24), while Thorntons will offer four calendars: Continental, Santa, The Snowman, The Snowman & The Snowdog (rsps: £3-£11.99).