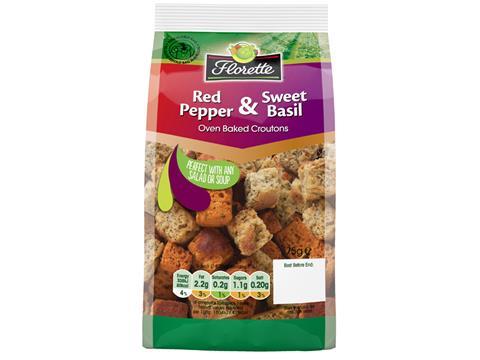 Salad brand Florette has added a range of duo-flavoured croutons to its line-up.
The croutons are available in 75g bags for £1.20 at selected Asda stores, and come in red pepper & sweet basil, and Italian cheese & sundried tomato flavours.
The croutons are manufactured under licence by Leeds-based manufacturer Symington's as part of a new relationship with the salad specialist. Florette is supporting the launch with free croutons in packs of Crispy Salad in Asda.
The range was designed to enliven the crouton category and inspire consumers to become more creative with their salads, said Florette commercial director Sandy Sewell, who added that no other manufacturer had brought a duo-flavoured crouton to retail.
"Croutons are very much a part of the salad occasion," he said. "By entering this market, we are able to offer consumers a point of difference and excite them with a new style of product."
The launch follows Florette expanding its salad bowl range and pushing its new PepperCress salad on TV. The supplier last month announced it had begun construction on the second stage of a £5m polytunnel complex near Colchester in a bid to reduce imports and become a year-round UK grower.