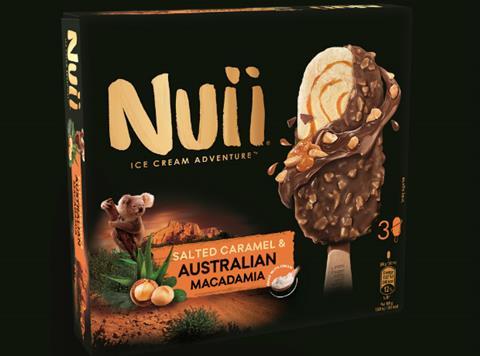 Froneri and Häagen-Dazs are at the forefront of a raft of new ice cream SKUs landing in grocery freezers over coming weeks with a focus on the twin trends of indulgence and healthier eating.
Froneri has announced its biggest launch of 2019 in the shape of Nuii – a four-strong luxury selection of handheld ice cream promising "flavours that are more adventurous and creative".
Salted Caramel & Australian Macadamia, Dark Chocolate & Nordic Berry, Cookies & Idaho Valley Mint and Almond & Java Vanilla are rolling out now as a single (rsp: £2/90ml) and a multipack (rsp: £3.80/3x90ml).
Set to be backed by a £3m push including a TV ad in April, Nuii – which is also available across Europe – was designed for younger shoppers "who can't find a premium sticks experience that speaks to their values and taste preferences" said Froneri.
Indulgence in handheld was a lead driver of ice cream's growth, said the supplier's UK head of marketing, Charlotte Hambling. "However, there's a real gap to add incremental growth by appealing to the adventure-seeking, taste-discerning audience who are looking for a premium stick that fulfils their indulgent treat requirements for an evening snack."
Meanwhile, Häagen-Dazs this week unveiled its "indulgent" Barista Collection, comprising two based variants inspired by Brits' love of coffee shops. Available in a sharing tub (rsp: £6.05/460ml) and a mini-cup (£4.20/4x95ml). Brownie Macchiato promises "the intense flavour of Robusta coffee beans", while Caramel Chai Latte includes a blend of Darjeeling and Assam black tea.
Barista Collection arrives just days after Häagen-Dazs joined the better-for-you ice craze with its first Gelato options, promising no more than 150 calories per 95ml mini-pot (158kcals per 100ml).
Also with an eye on healthier options, Ferrero this week officially unveiled three ice cream SKUs for children each offering under 100kcals per portion. Kinder Ice Cream Stick, Kinder Ice Cream Sandwich and Kinder Joy Ice Cream (rsps: 80p-£2.50/36ml-90ml) feature a 'Responsibly Made For Kids' message to allow parents to make an "informed choice when it comes to enjoying a tasty treat as part of a balanced diet".
The trio is joined in Asda and Ocado by the "perfect grown-up treat" Kinder Bueno Ice Cream Cone (rsp: £3.50/6x60ml) – hazelnut ice cream with a filling of milk chocolate sauce.
Finally, Lotus Bakeries has made its debut in the UK ice cream category by rolling its Lotus Biscoff Ice Cream Sticks multipack (rsp: £3.89/3x90ml) into selected Waitrose branches.