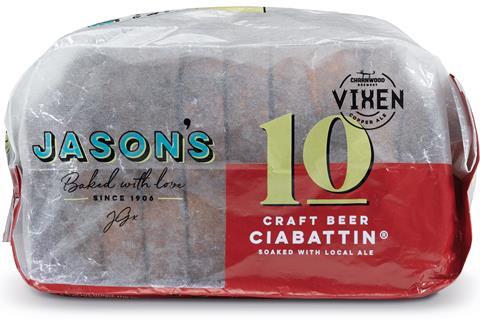 Geary's Bakery has launched an artisanal bread brand called Jason's, debuting with three Ciabattin loaves.
Each is made from sourdough culture and baked using a 24-hour fermentation process, which Geary's said was "typical of small batch sourdough bread". It ensured the loaves had a "rich flavour" and "no need for added sugars, preservatives or additives".
The lineup (rsp: £1.80/580g) comprises White Ciabattin, Grains & Seeds Ciabattin and Craft Beer Ciabattin, which is made using Vixen Copper Ale from the Leicestershire-based Charnwood Brewery. The trio has rolled out exclusively to M&S.
Each loaf is packed in glassine paper, which was "reminiscent of proper bakery bread" and "entirely recyclable within the paper recycling network" said Geary's. The bag was also resealable, meaning the bread was "still great after several days in the bread bin".
The range is named after Geary's master baker and MD Jason Geary.
With the new brand, Geary's wanted people to "experience the wonderful taste of quality proper bread with no additives, just wholesome ingredients" he said. The range was "great for many occasions, but unbeatable as toast".
It comes after Geary's, which supplies own-label bread to Aldi, netted a major investment from the Unsworth family in exchange for a majority stake in the business.