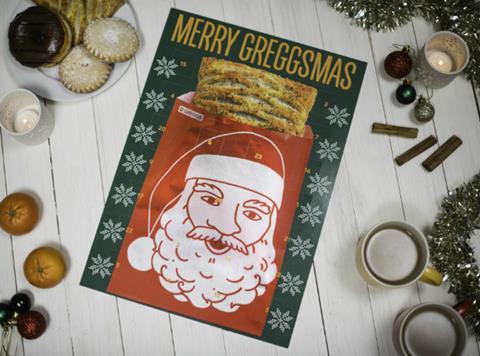 Greggs has unveiled its first-ever Advent calendar – but only 500 will be available from just 17 stores.
Each door will reveal a tear-off token redeemable at Greggs, from 1 December to 24 December, for items from the festive and regular menus. A £5 gift card sits behind the Christmas Eve door, although some calendars feature a £25 card. The cards are valid for 12 months.
Each day of the calendar, available from next Monday (20 November), includes a Yuletide scene "with a uniquely Greggs twist", including a Christmas tree adorned with mini gingerbread tree biscuits, and shepherds paying homage to a sausage roll in a manger.
The new product, bearing the greeting 'Merry Greggsmas', has an rsp of £24 – but it was worth between £30 and £60, said Greggs.
"Novelty advent calendars have been around for years, so we thought it was time to take the concept up a notch," added the food-to-go retailer. "Fans won't be disappointed by what's behind the doors."