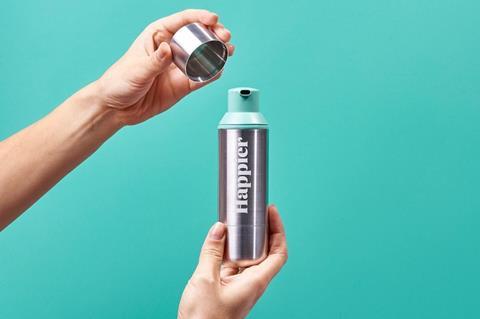 Oral care brand Happier Beauty is developing what it claims is the "world's first" refillable toothpaste dispenser with biodegradable capsules.
Made of aluminium and 50% recycled plastic, the "elegant and sleek" dispenser is intended to be refilled and reused repeatedly.
It will launch in four colours: mint, pink, peach and white in Spring 2022.
The refill capsules will be sent out to customers as a subscription and customers will be able to choose the frequency of their delivery.
As the capsules were biodegradable, there was "zero waste" associated with the product, said the brand.
The brand is yet to confirm a price but it said it expected the dispenser to cost roughly £10, with refills around the £5 mark.
The NPD would provide an alternative to standard toothpaste tubes that were "notoriously difficult to recycle", it added.
"We are so excited to be the world's first toothpaste company to bring a refillable toothpaste dispenser to market," said Happier Beauty founder Faye Wilson.
"Refills are becoming more popular across food and beauty, so why not dental care? Toothpaste is a product we all use twice a day but innovation in this market has been pretty slow up until now."
The dispenser and refill capsules provided "a truly circular refillable and reusable solution", she added.
It comes as its competitors are also making concerted efforts to bolster the category's sustainability credentials.
Last October, vegan oral care brand Hello brought its "naturally friendly" product range to the UK.
In 2021, Colgate launched an aluminium toothbrush and unveiled the "first ever" recyclable toothpaste tube.