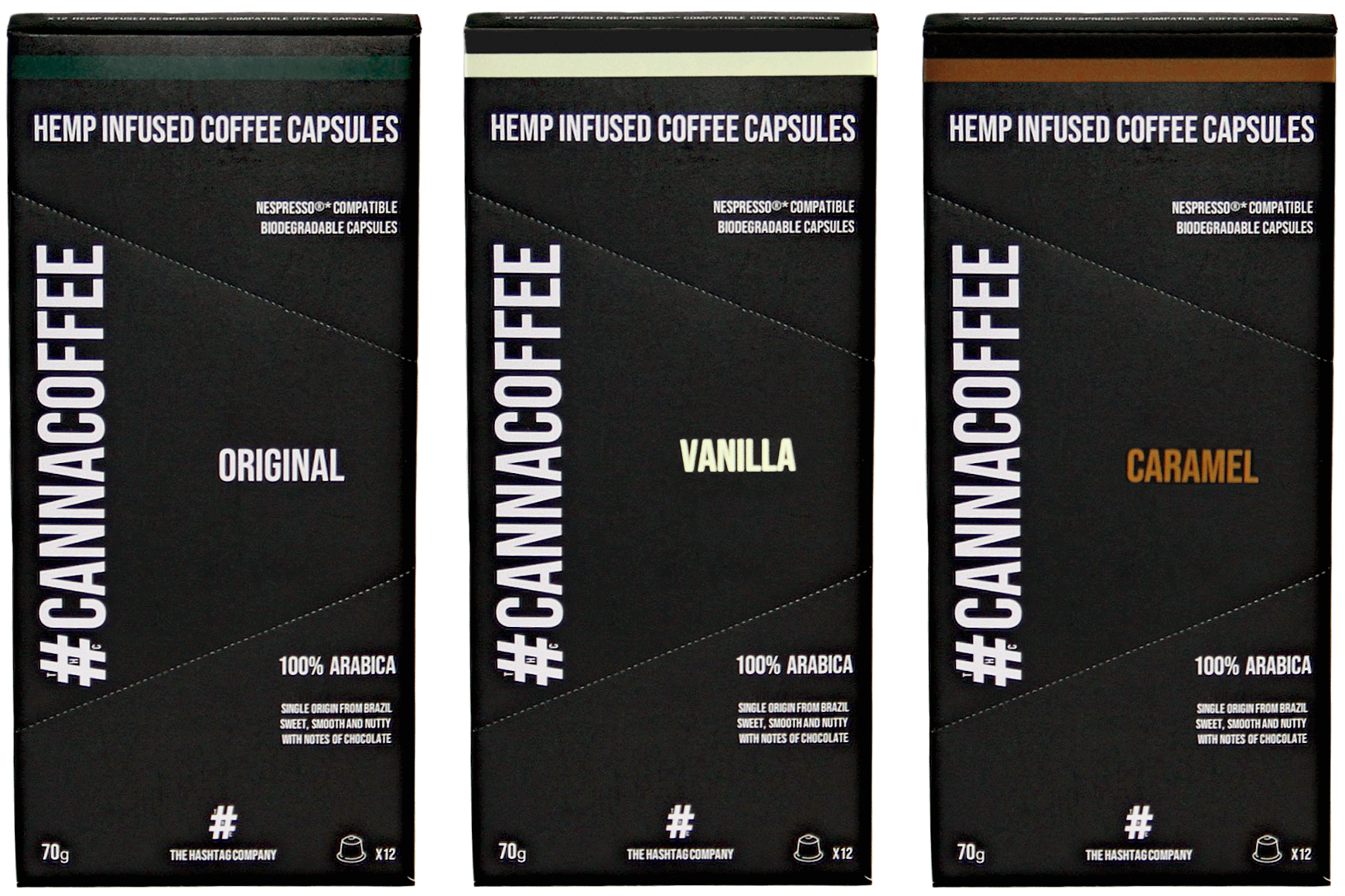 London startup The Hashtag Company will this month make its debut with Cannacoffee – a brand that claims to offer the world's first 100% biodegradable, hemp-infused coffee capsule.
The premium coffee, which will also be available as beans and ground, is Brazilian single-origin Arabica beans, which Hashtag medium-roasts in the UK and then infuses with oil cold-pressed from Chinese hemp seeds.
The result was an "everyday drinkable" coffee, said Louisa Noel-Johnson, who co-founded Hashtag with Saul Wise to "raise awareness of the cannabis plant" while promoting sustainability.
The couple saw hemp as "the next fashionable ingredient" she added. It was "packed with natural nutrients" and gave the coffee "a really lovely nutty flavour". Noel-Johnson and Wise had considered grinding the hemp seeds to mix with ground coffee but it created the wrong taste.
Cannacoffee's capsules are made of bio-matter derived from cereal plants. With a shelf life of 12 months, they are 100% biodegradable and can be industrially composted, completely breaking down within 180 days.
The coffee will launch on 20 April, priced at £6 for 12 Nespresso-compatible pods and £7.50 for 227g bags of beans and ground. Pods and ground will be available in original, Vanilla and Caramel variants. They will be joined by two branded reusable cups (rsp: £15), with each sale seeing £1 donated to environmental charity Plastic Oceans UK. Hashtag is currently in talks about listings with a number of retailers.
While hemp comes from the cannabis plant, Cannacoffee has no psychoactive properties and is not a CBD product – meaning it is not affected by the recent change to FSA rules. In late January, the agency announced a clampdown on cannabidiol in food and drink. Once categorised as a supplement, CBD is now classified as 'novel food' and is subject to stricter regulations.
Cannacoffee's launch follows a raft of noteworthy sustainability moves by coffee suppliers. Most recently, Percol claimed a world first with its plastic-free coffee bag, while Kent's Lost Sheep Coffee debuted in grocery with compostable capsules containing speciality grade coffee – the first of their kind in the UK, according to the brand.