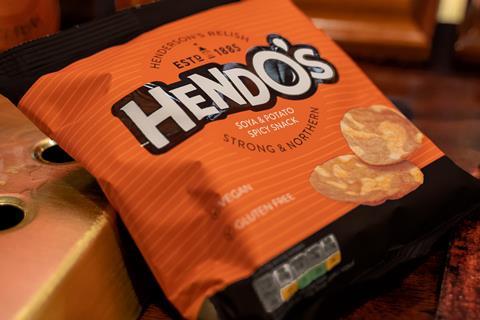 Henderson's Relish is making another foray into bagged snacks, rolling out HFSS-compliant Hendo's crisps.
Made from soya and potato, the new crisps (rsp: 85p/23g) promise "the unique taste" and "spicy full flavour hit" of Henderson's core sauce, which has been made in Sheffield for 137 years.
Hendo's crisps are vegan and gluten-free, with each pack providing 99kcals and 0.3g of satfat. They are currently available in Sheffield from pubs, sandwich shops, wholesalers and retailers, including Booker, Parfetts, Morrisons, Premier and c-store chain James Retail. National listings are set for September.
The launch of Hendo's comes more than a decade since Yorkshire Crisps added a Henderson's Relish variant. After the partnership between the two suppliers came to an amicable end three years ago, "we decided to launch our own snack aligned to the Henderson's Relish brand" said Henderson's general manager Matt Davies.
There was "a synergy between the sauces and snacking categories" he added. "Consumers are seeking out new, unique, spicy flavours", and the brand was "keen to create a snack that's recognisably Henderson's-flavoured".
Henderson's Relish made its debut in 1885. A blend of tamarind, cayenne pepper, vinegar, garlic and clove, it sports the strapline 'Strong & Northern'. For many years, the plant-based sauce was available only in Sheffield but can now be found across the UK in a 284ml bottle with a distinctive orange label.