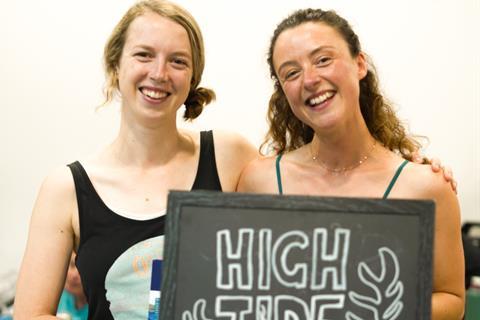 Two young entrepreneurs are to roll out snack bars made from seaweed, after securing support from a Welsh government scheme.
Launched under the brand name High Tide, the bars are a source of protein and high in fibre. They contain kelp and dulse seaweed sourced from community-owned regenerative ocean farm Câr y Môr in Pembrokeshire. They also feature oats and seeds and are sweetened with maple and date syrups.
They are the brainchild of Flo Taylor and Beth Joseph-Horne, who met while studying marine biology at university in Exeter. Taylor went on to pursue a masters in sustainable aquaculture, while Joseph-Horne trained as a nutritional therapist.
They decided to set up a business together three years ago – after Taylor had become interested in seaweed farming and was volunteering at Câr y Môr. "I really wanted to do something to help them sell their seaweed in a modern and innovative way," she said.
The two women began to run workshops on seaweed nutrition and sustainability, which led to the idea for High Tide seaweed snack bars. "We wanted to demonstrate the incredible potential of seaweed as both a sustainable and a nutritious food source," said Joseph-Horne. "We would make these little bars at our events, and everybody loved them. So that ignited the idea of developing the bar."
To help them further develop the product, the High Tide founders approached Cardiff University's Zero2Five Food Industry Centre, part of Food Innovation Wales. Backed by the Welsh government, it provides support and advice to help food and drink companies grow, innovate and reach new markets.
Technologists in NPD and bakery supported High Tide with recipe development, labelling, shelf-life testing and production trials, which were delivered through Food Innovation Wales's Project Helix, a programme that provides funded technical and commercial support. Zero2Five also helped to perfect the texture of the bars, the level of sweetness and the nutrient levels.
"One of our biggest barriers to moving things forward was the cost. So, to get this level of funded support is invaluable," Joseph-Horne said. "It blew my mind how many different things go into recipe creation for commercial production; there's just so many things to think about that we hadn't considered before."
High Tide bars will be produced in Swansea and are set to be available in coming months.