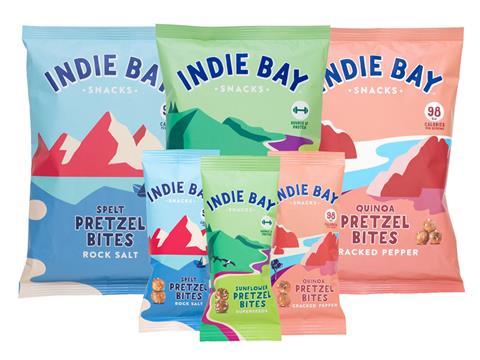 Healthier pretzel snack brand Indie Bay Snacks has launched with backing from grocery heavyweights amid plans to win national listings in the mults.

Former United Biscuits CEO Jeff van der Eems is an advisor and shareholder and Indie Bay has also received substantial early-stage backing from Hazem Ben-Gacem of Investcorp, who sat on the board of Tyrrells until its sale to Amplify Snacks for £300m last year.

Indie Bay's Pretzel Bites rolled into Whole Foods Market this week, following launches in Ocado, Planet Organic and Selfridges in recent weeks. The brand is also holding discussions with a number of major supermarkets, it said.

The range is available in three variants - spelt with rock salt; quinoa with cracked pepper; and sunflower with sesame & poppy seeds - with more to follow in coming months. Each flavour is sold in a 26g grab pack (rsp: £1.19) and a 160g sharing bag (£2.99).

Though calorific value is similar to standard pretzels at 376/100g, they were "healthier" because the "all-natural ancient grains and seeds" made them a source of fibre and protein, said founder Dafna Bonas. They also have no added preservatives and contain around 60% less fat than standard crisps.

Indie Bay's mission was "to pioneer a newer, better and smarter way to snack, using new ingredients and techniques to truly redefine snacking - bagging all the benefits without the guilt" said Bonas, who started her career at Procter & Gamble. "There is a significant opportunity as the crisp category declines," she added. "The supermarkets understand consumers are looking for better, healthier options that don't force them to compromise on flavour."

Before launching Indie Bay, Bonas co-founded Founders Pledge, a global initiative that helps tech entrepreneurs give back to the causes they care about. She is also a trustee of The Jamie Oliver Food Foundation and a board advisor of non-profit organisation Intelligence Squared.