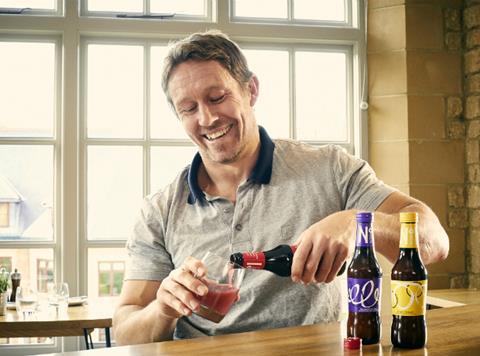 Former England rugby union star Jonny Wilkinson has launched No1 Kombucha, a three-strong range aimed at bringing the fermented tea drink into the mainstream.
Naturally sparkling Ginger & Turmeric, Passionfruit & Goji and Raspberry, Pomegranate & Hibiscus variants are available now exclusively in front-of-store chillers at Sainsbury's (rsp: £1.95/275ml) – "designed to genuinely make kombucha accessible to all and provide a delicious alternative to fizzy pop".
The No1 Kombucha lineup is created with fermented green tea, which is frequently claimed to be beneficial for gut and mental health. It contains real fruit juice and no artificial sweeteners, with no more than 18 calories per 100ml.
Wilkinson founded the brand having "enjoyed the benefits of kombucha for years, brewing it at home with my wife and drinking it daily", said the World Cup-winning fly-half. "We spent a considerable amount of time refining the recipe to make it as delicious as possible and an easy choice for consumers wanting to make small, positive steps towards improving their health."
There was a growing demand for "'living' food and drink, with a big rise in the popularity of fermented products – for example, kefir, sauerkraut and kimchi", said Richard McNeil, front-of-store soft drinks buyer at Sainsbury's. "We're making these easily accessible to our customers and are locating No1 Kombucha along with other chilled soft drinks rather than with more specialist lifestyle products."
The launch comes as Australian soft drinks brand Lo Bros is making its UK debut with a selection of kombucha sodas aimed at promoting gut health. Six variants – Original, Raspberry, Passionfruit, Ginger & Lemon, Apple, and Raspberry & Lemon (rsp: £2.39/330ml) – are made with organic kombucha, fruit and sweetener, promising less than 1g of sugar per 100ml.