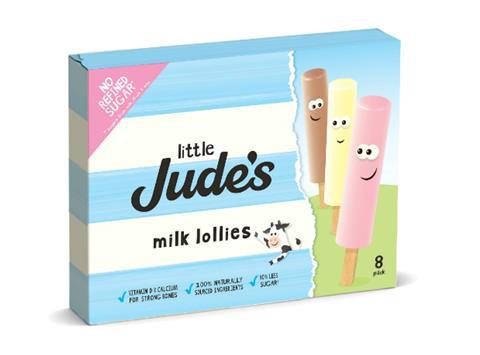 Premium ice cream maker Jude's is taking up the fight against childhood obesity with a range of low-sugar milk lollies that satisfy Public Health England's guidelines on sugar reduction.
Little Jude's is set to land in freezers in the autumn, offering less than 10g of sugar per 100g, which the brand claims is 30% less sugar than comparable products. It is sweetened by milk and apple juice concentrate, with no refined sugar, keeping sugar content below 10.8g per 100g – PHE's recommended sales weighted average for ice cream products by 2020.
Calories are around 110 per 100g across the vanilla, chocolate and strawberry variants.
Little Jude's milk lollies addressed "the sugar concerns of parents, as well as deliver the health benefits of a fortified milk product with amazing taste" said Jude's managing director Chow Mezger.
The launch came because "multinational ice cream companies do not appear to be doing all that they can to lower the sugar levels in their products, so Jude's is proud to be leading the way" he added.
A multipack of mixed flavours will roll out on 5 November to Sainsbury's (priced at £3/8x35ml).