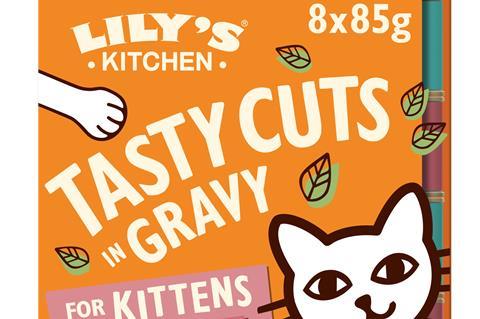 Lily's Kitchen has expanded its ranges for kittens and puppies, targeting the UK's pet ownership boom.
Tasty Cuts in Gravy for kittens is a multipack across two "nutritionally complete" meals, Chicken & Ocean Fish and Chicken & Turkey (rsp: £7/8x85g), suitable for cats from two months old. It is available from Lily's website, with high street listings expected in the summer.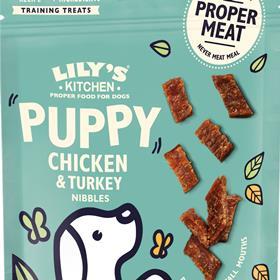 Chicken & Turkey Nibbles for puppies promise a "lovely chewy, flexible texture" (rsp: £2.65/70g) and are suitable for young dogs aged two months and older. Available from Pets at Home, the new treats follow the success of Lily's Chicken & Salmon Nibbles, added in 2021.
Both innovations were "specially formulated to support growth" said Lily's. They came amid "the ongoing boom of new pet parents since the onset of the pandemic, with more than one in two UK adults owning pets".
Last month, the Pet Food Manufacturers' Association reported "a record 35 million pets in the UK in 2022" – including 13 million dogs and 12 million cats.
"Many of us here at Lily's Kitchen are pet parents ourselves, so we understand that mealtimes – and treat times – offer moments of joy with your pet, especially with kittens and puppies," said Lily's marketing director Samantha Crossley.
The upmarket brand's expanded offer for young animals meant "more delicious choices for both main meal and treating occasions" she added. Tasty Cuts in Gravy and Chicken & Turkey Nibbles would help "keep variety in pets' diets, while reassuring owners that the food they are giving to their young animals is the best it can be to support healthy growth and development".