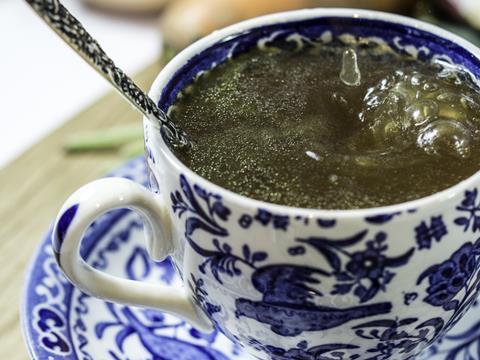 Love Taste has branched out into bone broth with two lines in a frozen pod format.
The pods come in chicken and beef, and are made into a drink by adding hot water. Both recipes, made in collaboration with a Michelin-starred chef, are distilled after "hours of bubbling away" with a selection of vegetables and herbs to create "the ultimate feel-good brew", said Richard Canterbury, founder of the London-based drinks business.
"I wanted to apply the same methodology we use for our fruit teas and come up with an easy bone broth recipe - one that tasted out of this world but the only work you needed to do was stick the kettle on," he said.
With interest in bone broths growing due to the popularity of the paleo diet, Daylesford and Lodge Farm Kitchen launched bone broths earlier this year. But the new broths are the first to be developed for the foodservice market, said Canterbury.
Reaction to the pods (with an rsp of £2.95 and £3.50) had been "phenomenal so far", he added, and are available to foodservice now with a view to launching in grocery later this year.
Love Taste supplies frozen smoothie mixes, frappes and fruit teas for Pret a Manger and other food to go and foodservice outlets as far afield as Beirut, it claims.
Ocado, which already sells the Love Taste's smoothies, was "keen" to stock the duo, Canterbury added.