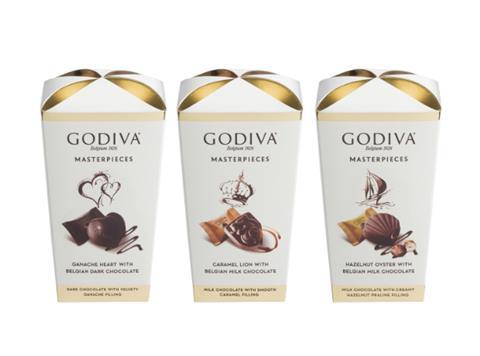 Godiva luxury chocolate is available from UK supermarkets for the first time, following the launch into Sainsbury's of the Pladis brand's new Masterpieces range.
The six-strong lineup showcases three of the bestselling Godiva options: Dark Chocolate Ganache Heart, Milk Chocolate Caramel Lion and Milk Chocolate Hazelnut Oyster. The variants – "reimagined" as tablets and packs of individually wrapped chocolates – are joined on shelf by tablets and gifting assortments from Godiva's core collection. Rsps range from £2 to £28.
Having previously been available through its own boutiques, duty-free retailers and premium department stores, the move into the high street grocery would "bring Godiva in to a wider public consciousness", said the 91-year-old brand.
The UK rollout to 500 Sainsbury's stores, which began late last month, was part of a wider global launch also encompassing retailers in North America, China, the Netherlands, Sweden, Turkey and Saudi Arabia.
Godiva combined "nine decades of traditional chocolate artistry with the latest innovation", said Jon Eggleton, Pladis managing director for UK & Ireland. "We are hugely excited to be expanding in the UK, working with Sainsbury's to bring luxurious, premium products and in-store experiences that are brand new to this market."
The move comes after Godiva named Annie Young-Scrivner as its new chief executive officer. She will replace Mohamed Elsarky with effect from 14 September.