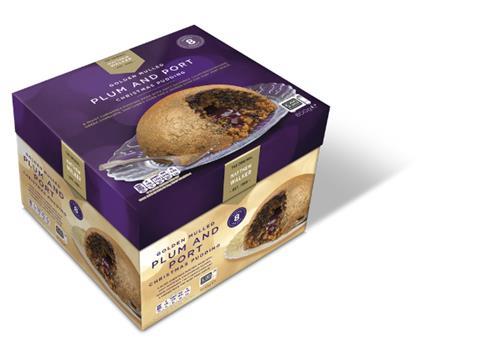 Derbyshire pudding maker Matthew Walker has unveiled two festive variants with a 'grown-up twist': Golden Mulled Plum & Port Christmas Pudding, and Guinness Fruit Pudding.
The alcohol-infused duo promise "rich, deep flavours", with the former pudding containing sultanas, Californian raisins, Greek currants, Thatcher's Cider, and a plum & ruby port sauce (rsp: £8.99/800g). Its edible gold finish would tap this Yuletide's trend for 'bling', according to the supplier.
Presented in a hat box-style pack, the eight-person pudding has a 'gooey' centre. It can be microwaved in just over five minutes, or cooked in the traditional steaming method for two hours.
At 454g, the Guinness Fruit Pudding is a smaller option that includes fruits, spices, cider and the titular Irish ale (rsp: £4.99).
Both NPDs reflected a shift in consumers' tastes towards "the rich, deep flavours you get when you infuse puddings with different types of alcohol", according to Sarah Gibbon, senior category manager at Matthew Walker, which has been making puddings since 1899.